Discover the Latest Vehicles Driven by Mobileye™
During CES 2022, we're showcasing four vehicles that are putting our self-driving technologies on the street – everywhere, in every way, for everyone.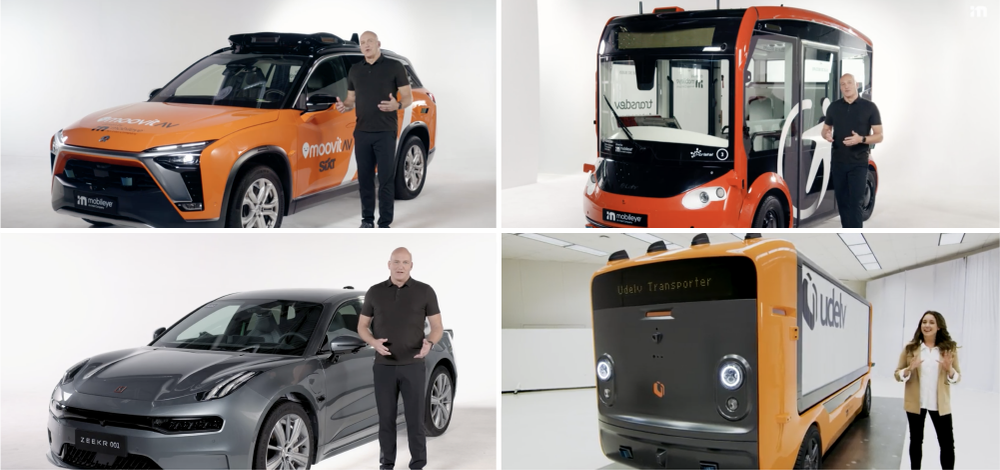 Mobileye Robotaxi, Transdev/Lohr i-Cristal, Zeekr 001, Udelv Transporter - four vehicles Driven by Mobileye™ for CES 2022
At Mobileye, we don't just make technology for technology's sake. We make technology to put in vehicles – over 100 million vehicles to date, in fact. And we're not about to stop there.
Our latest solutions take the fruits of our autonomous-vehicle development program and put them out on the street. For CES this year, we assembled four very different vehicles, each powered by our latest technologies, to show how the benefits of self-driving technology can be implemented everywhere, in every way, for everyone.
Keep scrolling to check them out and peer into the game-changing technologies that make them possible.
Zeekr 001 by Geely Auto Group – featuring Mobileye SuperVision™
The Zeekr 001 is the first in a new line of premium electric vehicles from Geely. It's also the first vehicle to incorporate Mobileye SuperVision, our next-generation premium driver-assistance system.
If you've seen footage of our AVs driving in cities around the world, you've essentially already seen Mobileye SuperVision in action. Owing to our scalable approach and world-renowned expertise in computer-vision technology, we've taken the system from our camera-only developmental AV and ported it over to the ADAS domain. Equipped with Mobileye SuperVision, the Zeekr 001 is imbued with superior vision capabilities, while still requiring human oversight. It can "navigate-on-pilot" hands-free, with over-the-air updates helping to keep it right at the cutting edge.
The Zeekr 001 has already entered production in China, and we hope to see it reach other markets soon.
Lohr i-Cristal for Transdev ATS – featuring Mobileye Drive™
Want to know what the future of public transit might look like? Just check this out.
This is the i-Cristal, an autonomous shuttle built by Lohr Group for Transdev ATS. It's a sixteen-passenger, wheelchair-accessible, fully electric shuttle bus. It incorporates Mobileye Drive (our turnkey self-driving system) for fully autonomous capability, and can be operated either along fixed routes or dispatched precisely when and where it's needed.
Production is slated to start in France later this year, with commercial operations scheduled to begin in Europe next year.
Udelv Transporter – featuring Mobileye Drive™
A very different application for Mobileye Drive, the Udelv Transporter is an autonomous delivery vehicle designed for middle- and last-mile delivery of goods.
The Transporter has an innovative package storage and conveyance system. It employs our self-driving system for autonomous operations, and a remote teleoperation system for maneuvering around loading docks and garages. It can carry up to 2,000 pounds (over 900 kg) of packages and make up to 80 stops on a delivery run, travelling autonomously at up to 70 miles per hour (113 km/h) from one to the next.
Udelv plans to start running fleets of Transporters in the US towards the end of next year.
Mobileye Robotaxi – featuring Mobileye Drive™ and Moovit mobility services
While this may look like an ordinary family crossover, it's anything but. This is our robotaxi, incorporating all the latest tech that Mobileye and our sister-company Moovit could fit into it. And it may very well be the first self-driving vehicle you'll ever experience.
Our robotaxi is based on the NIO ES8, a fully electric, seven-passenger crossover SUV. We've fitted it with a full array of sensors around the vehicle and into the sleek manta-ray roof unit, along with our AV map and driving policy. Moovit's mobility services complete the full ride-hailing experience.
Fleets of these robotaxis are (pending regulatory approval) scheduled to begin driving passengers around Germany and Israel later this year. And maybe they'll reach your location next!
Join Johann Jungwirth, our Vice President for Mobility-as-a-Service, in the video above to learn more about Mobileye Drive. Check out the video below to see the hardware that enables these and many of our other solutions. And click this link to play around with our interactive vehicle demonstrator, where you'll also get a sneak peek at the Level 4 consumer AV we're developing with Zeekr. 
Press Contacts
Contact our PR team