Presenting the Mobileye Drive™ Self-Driving System
Combining groundbreaking technologies, Mobileye Drive™ is now commercially available to support self-driving mobility and delivery services around the world.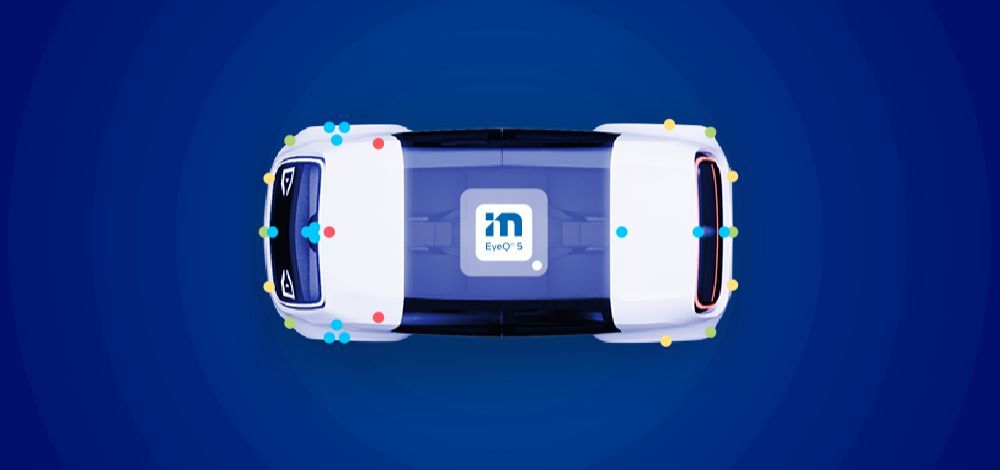 Mobileye Drive Self-Driving System illustration
Today we announced our latest self-driving mobility deal, and together with it, we're presenting Mobileye Drive™ – our Level 4 self-driving system, now commercially available for a variety of autonomous-vehicle applications.
The industry's premiere commercial self-driving system, Mobileye Drive is the result of years of research and development in autonomous vehicle technologies – rigorously tested on public roadways in Israel and around the world – and builds upon our proven leadership in driver-assistance technologies.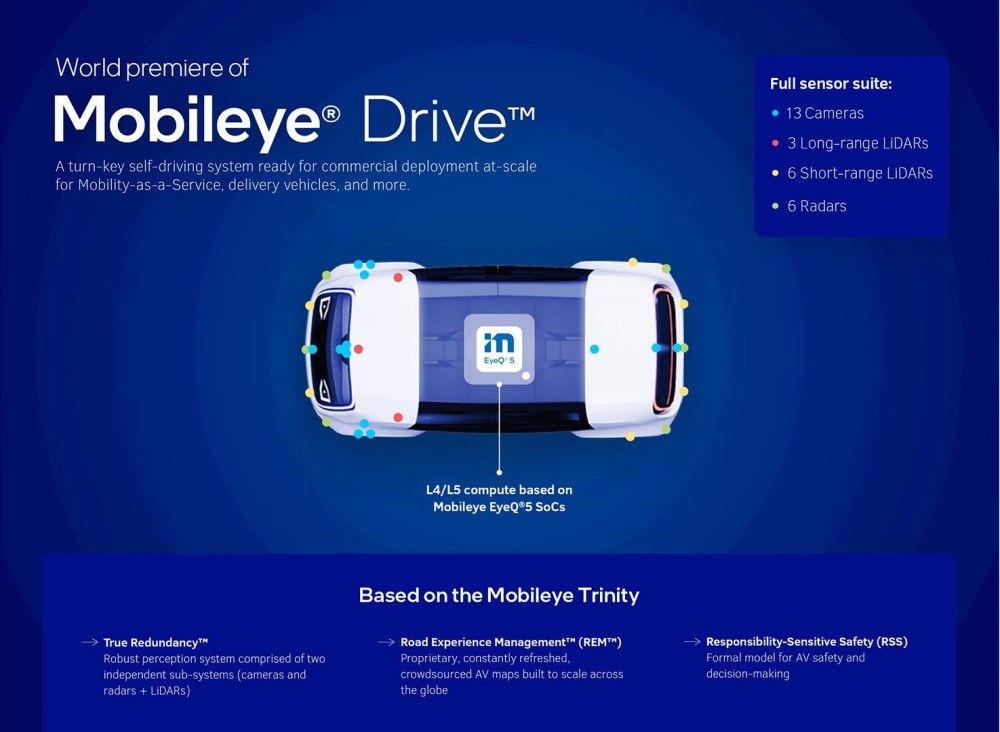 The Mobileye Trinity
Mobileye Drive incorporates an array of groundbreaking, industry-leading technologies that together form the Mobileye Trinity of autonomous-vehicle tech. The embodiment of our approach to AV sensing, True Redundancy™ combines two independent perception sub-systems – one powered by cameras, another by radar and LiDAR – each capable of supporting full end-to-end autonomous capabilities.
Our innovative approach to mapping, Road Experience Management™ (REM™) leverages crowdsourced data from mass-market ADAS to build AV maps – efficiently and automatically, anywhere in the world, and on short notice. And our open Responsibility-Sensitive Safety (RSS) driving policy provides a formal mathematical model to ensure optimal safety, quickly and easily adaptable to different driving cultures.
Autonomously Transporting Passengers and Goods
Powered by our EyeQ® system-on-a-chip and fed by multiple camera, radar, and LiDAR sensors, this trinity of technologies combine in Mobileye Drive to deliver an industry-leading self-driving system. Mobileye Drive is now ready for implementation in robotaxi services, self-driving commercial delivery vehicles, and eventually for consumer passenger AVs – and is already being embraced by customers around the world.
The Autonomous Revolution Has Already Started
As part of our full stack of self-driving Mobility-as-a-Service (MaaS) solutions, Mobileye Drive is the self-driving system that will enable the launch of our autonomous shuttles that are set to hit the roads in Tel Aviv next year. Additional MaaS partnership agreements have already been signed in such locations as France, the United Arab Emirates, South Korea, and Japan – with more in the works. And with today's announcement of our commercial partnership with Udelv, Mobileye Drive is slated to enable fully autonomous delivery services in the United States starting in 2023.
For more details, see the Mobileye Drive fact sheet, visit our self-driving mobility services page, and watch this space for further announcements.
Press Contacts
Contact our PR team