Ford & Mobileye Sign Pivotal New ADAS Deal
This latest agreement will see Mobileye technology integrated into a broad range of Ford vehicles… and lets their drivers know about it, too.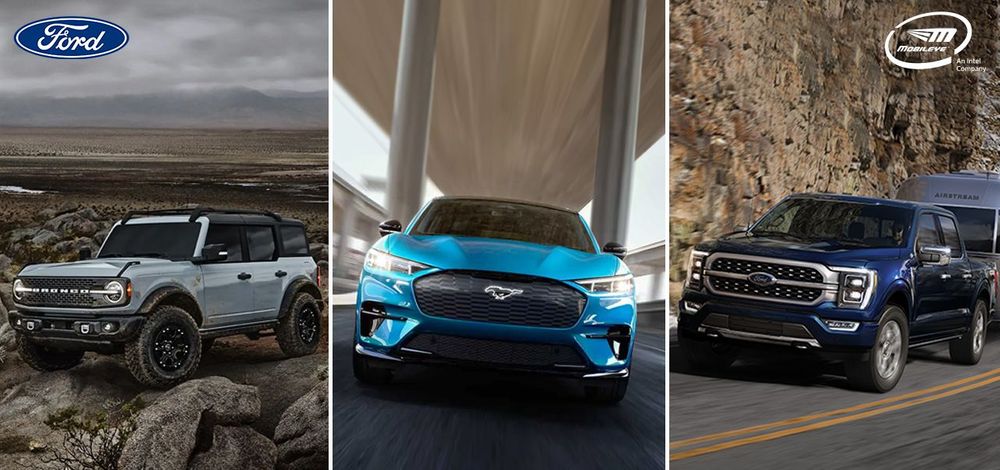 Ford Bronco, Mustang Mach-E, and F-150... now with Mobileye Inside
Does your new car or truck have Mobileye technology built in? The chances are good that it does, and that technology is only getting better – especially if you're driving a Ford. And what's more is that it's getting easier to tell the tech is in there too. 
Today the Ford Motor Company announced a new deal with Mobileye that will see our cutting-edge technology integrated into an array of current and future production models, from the latest F-150 pickup to the new Mustang Mach-E electric crossover and beyond. 
Building on a longstanding relationship between the two companies, this latest high-volume agreement will see Mobileye supply our EyeQ chip and accompanying software to power Level 1 and Level 2 driver assistance features that form part of Ford's Co-Pilot360 system. That system includes features such as adaptive cruise control, automatic emergency braking, lane-keeping assist, forward collision warning, pedestrian and cyclist detection, and automatic high-beam headlights. 
For the first time, drivers of Ford vehicles so equipped will be able to tell whose technology is enabling these features as the Mobileye logo will be showcased in the vehicles' SYNC dashboard display. We hope it will be the first of many such developments across the industry that stands to increase both transparency and public awareness of Advanced Driver-Assistance System (ADAS) technology.  
This also marks the first time that Ford is committing to using Mobileye tech throughout the life of its next-generation models, setting the two companies up for continued collaboration for years to come. Beyond this agreement, the Dearborn-based automaker is also currently evaluating implementing Mobileye's Roadbook system in its vehicles. Roadbook leverages crowd-sourced data from our technology already inside vehicles on the road to build the incredibly precise high-definition maps required for next-generation driver-assist features like hands-free driving and the autonomous vehicles of the future.  
"It is a privilege to extend and expand our long-standing collaboration with a company that is so committed to safety on behalf of its global customer base," Mobileye CEO and Intel SVP Professor Amnon Shashua said upon the announcement. "We look forward to working closely together to bring these functionalities to market in the full Ford product lineup." 
"Providing people with extra confidence while driving is invaluable, and it's exactly what our available Ford Co-Pilot360 features are designed to do," added Lisa Drake, Ford's Vice President for Global Purchasing. "By customizing Mobileye's excellent software and sensing technology, Ford's great driver-assist features will continue to evolve and provide customers with confidence on the road throughout the life of their vehicles."
Press Contacts
Contact our PR team