We're 'All In' on Mobility, Shashua Says at EcoMotion 2020
Interview touches on MaaS, robotaxis, and how startups can weather the Coronavirus crisis.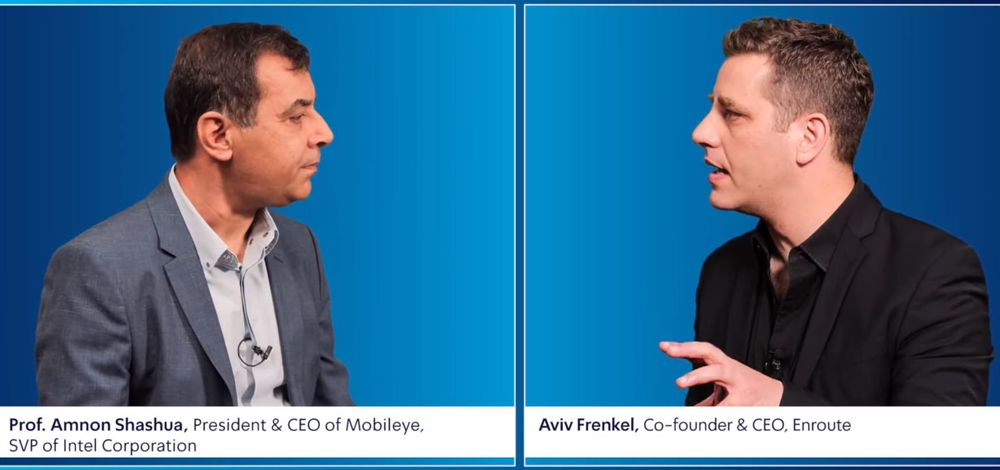 Mobileye CEO Prof. Amnon Shashua speaks with Enroute CEO Aviv Frenkel at EcoMotion 2020
In an interview with Enroute CEO Aviv Frenkel, Mobileye CEO Amnon Shashua spoke about a wide range of subjects including Mobileye's plans to enter the MaaS market, insights into the AV industry overall, his own work assisting the Israeli government manage their response to COVID-19 and why self-driving cars are "unstoppable."  
As part of Mobileye's entry into MaaS, the company is going "all in," towards introducing a fully autonomous robotaxi service in 2022 in Tel Aviv. The recent acquisition of Moovit will help with this aim, providing transportation technologies such as mobility intelligence and vehicle optimization that will complement Mobileye's self-driving technology. Forbes, in its coverage of the interview, noted that Shashua's statement came "while many other companies, particularly car OEMs, are scaling back their plans and timelines on full robocar service."  
Shashua also spoke about consolidation in the AV industry noting that companies are discovering that developing these vehicles involves a wide range of technologies which must be developed in tandem. Reuters, which also covered the interview, quoted Shashua as saying, "It's a formidable task, and there are going to be very, very few actors who can go from silicon (chips) to self-driving systems."  
As for the effect of the coronavirus crisis on the development of AV technology, Shashua pointed out at there are two fundamental drivers pushing the industry forward: the rise of automation and the need for mobility. Neither of these has been changed by the crisis.
Press Contacts
Contact our PR team