Cloud-Enhanced Driver-Assist™ Takes ADAS to the Next Level
Mobileye's latest solution combines our expertise in advanced driver-assistance systems with the power of our cloud-based, crowdsourced mapping technology.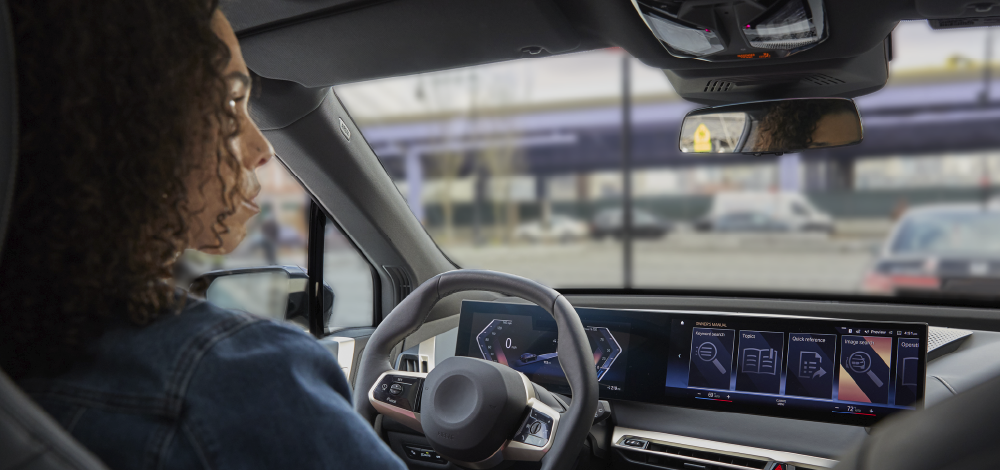 Cloud-Enhanced Driver-Assist™ brings the power of REM to driver assistance.
As our world grows more connected, the challenge that arises is not merely collecting information, but getting the right information to the right place at the right time. And that challenge grows even more pressing when information has the potential to enhance road safety. Our answer to that call is encapsulated in Cloud-Enhanced Driver-Assist™.
The latest addition to our portfolio of mobility solutions, Cloud-Enhanced Driver-Assist brings together two core areas of our expertise – ADAS and REM™ – and packages them in an innovative new solution, taking driver-assistance technology to the next level.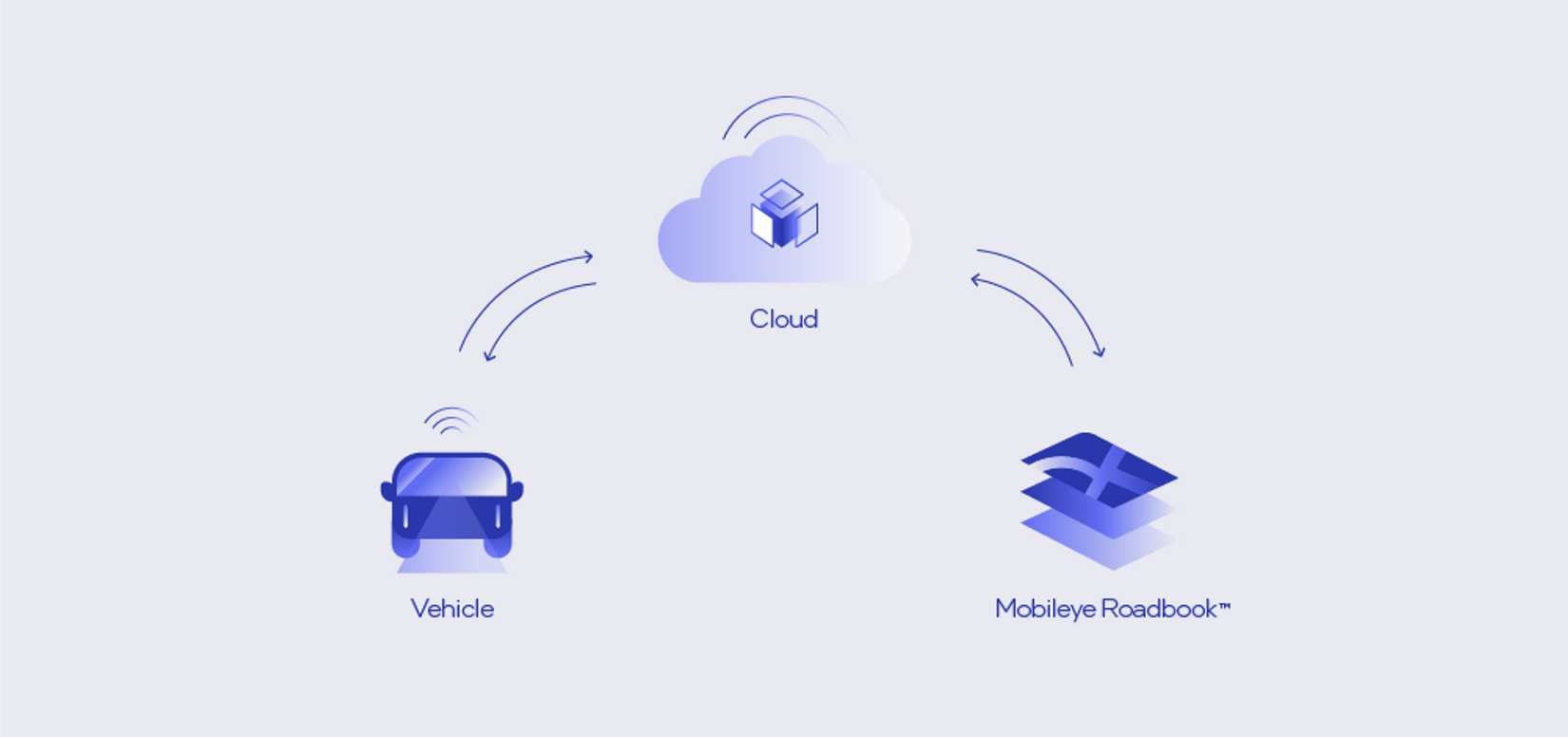 The Next Leap in Driver Assistance
Imagine you're driving along a multi-lane road. Maybe it's snowing, or raining, or foggy, or dark. Maybe the lane markers have worn away with time and haven't been repainted in a while. You can't see them with your own eyes, and the vehicle's onboard sensors may not be able to, either. But Mobileye's system knows where they are, and our Cloud-Enhanced Driver-Assist solution helps the vehicle to stay centered in the lane – keeping you on the proverbial straight and narrow.
Or picture arriving at a busy intersection. There's a whole mess of traffic lights – one or more sets for each lane in each direction of traffic. Cloud-Enhanced Driver-Assist knows exactly which lights are relevant for the lane you're in, enabling the vehicle to alert you (or even apply the brakes itself) if you're about to roll through a red light.
That construction zone around the next bend or over the next rise? A toll gate coming up fast on that highway exit ramp? The speed at which traffic actually travels (independent of the posted limit) on a given stretch of road? Or the line drivers typically take around a corner? Cloud-Enhanced Driver-Assist can access all that information – thanks to innovations from our autonomous-vehicle program – to augment the ADAS performance in today's human-driven vehicles.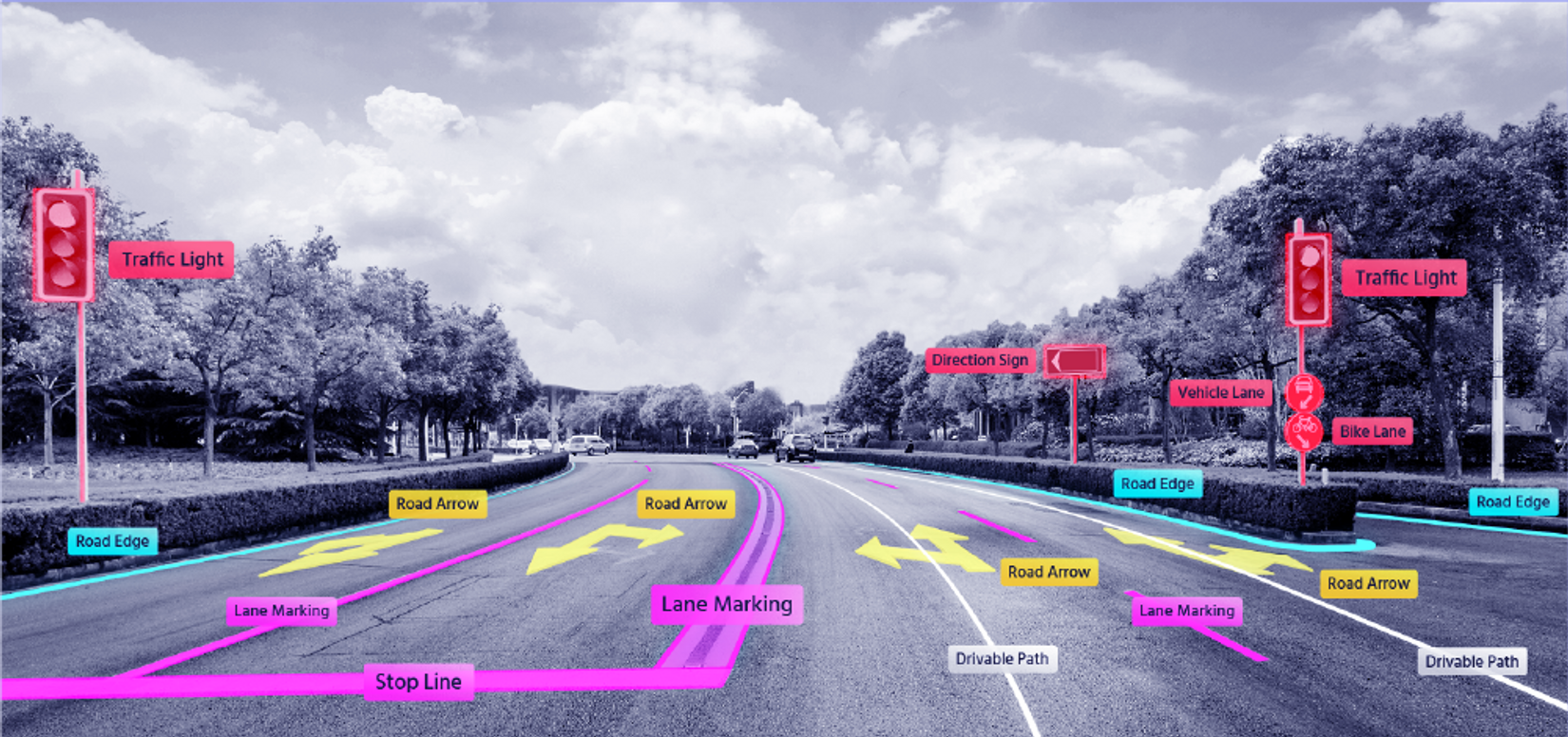 The Power of the Crowd, Delivered Through the Cloud
The key to the enhanced capabilities of Cloud-Enhanced Driver-Assist is our award-winning Road Experience Management™ (REM) technology. Originally developed for autonomous vehicles, REM is applied here to augment driver assistance in a manifestation of the mutually reinforcing relationship between our technologies.
REM unlocks the power nascent in the proliferation of our advanced computer-vision driver-assistance technologies. A rapidly growing crowd of more than 1.5 million vehicles equipped with our latest chips continuously feed REM with a stream of data on the roads they travel. REM uploads that anonymous data in small packets to the cloud, where it's automatically compiled into the Mobileye Roadbook™ – our highly precise, continuously refreshing map of the worldwide driving environment.
We've developed this method to be more efficient than the typical industry practice of dispatching dedicated LiDAR mapping vehicles. And, of course, it provides more up-to-date information that is relevant both for autonomous vehicles, and for enhanced driver-assistance as well.
Think of it, in essence, as another sensor – millions of sensors, really – on top of the vehicle's onboard cameras. Only it's delivered purely by software, without the need for any additional hardware.
Mobileye's Nimrod Nehushtan speaks about Road Experience Management and its application to ADAS in the video below.
In our Cloud-Enhanced Driver-Assist solution, REM and the Mobileye Roadbook combine with more than two decades of leadership in the realm of advanced driver-assistance systems and the experience of more than 100 million vehicles equipped with our ADAS technologies. Dozens of the world's leading automakers count on our tech to enable the ADAS features in hundreds of models they sell in markets around the world. And several of those automakers have already begun to adopt our new Cloud-Enhanced Driver-Assist solution.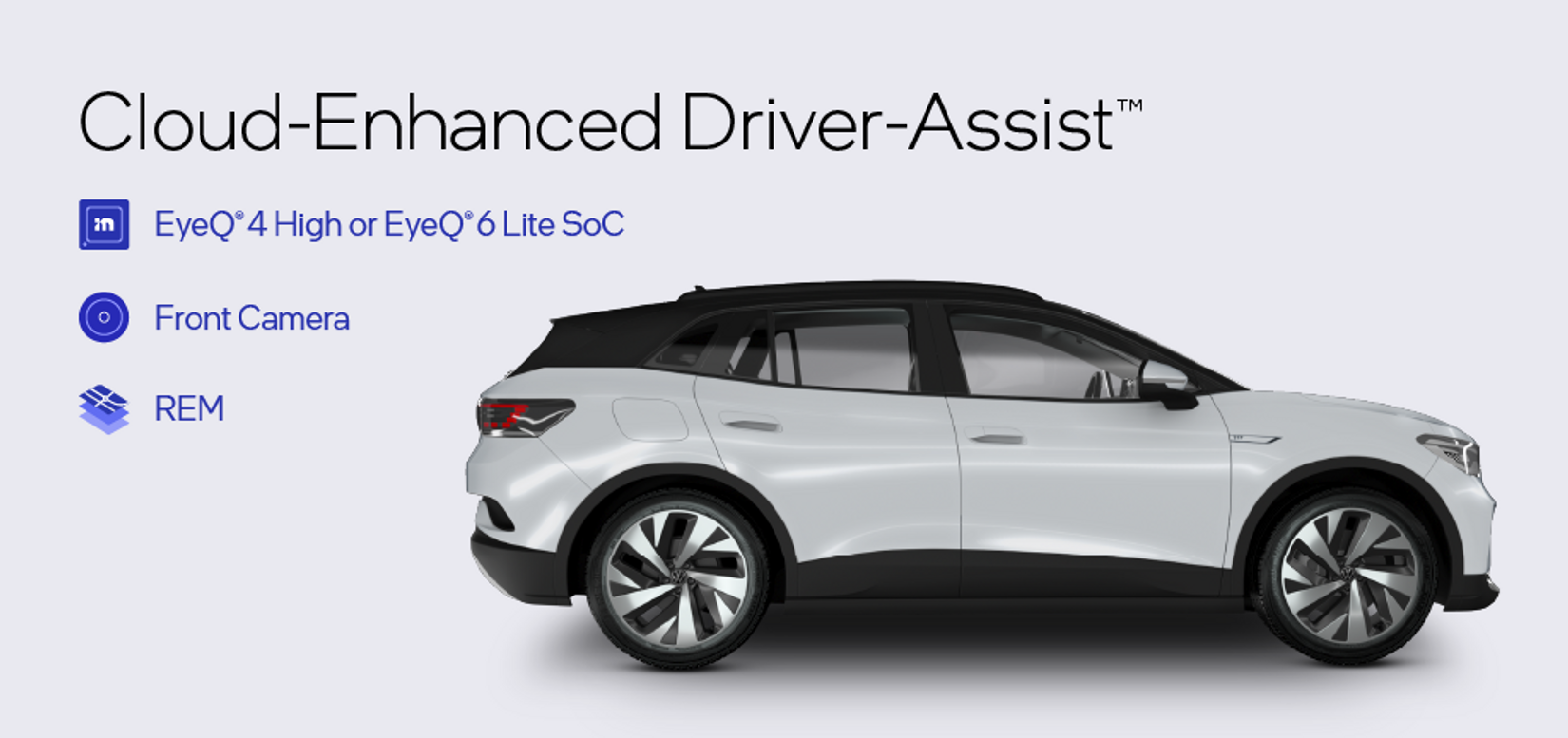 Coming to a Showroom Near You
At CES earlier this year, we announced deals with two major automakers to enhance their most advanced driver-assistance systems with our mapping technology.
The Volkswagen Group is employing the Mobileye Roadbook to enable its Travel Assist with Swarm Data. The system is already offered across Europe in electric vehicles (based on VW's MEB platform) from the Volkswagen, Seat, and Skoda brands. This technology helped the Volkswagen ID.5 achieve the highest possible score in Euro NCAP's recent evaluation of highway assistance systems.
Volkswagen Group chief executive Dr. Herbert Diess and Mobileye CEO Prof. Amnon Shashua discussed the partnership (and went for a drive in a VW ID.4 equipped with the system) in the video below.
Ford is similarly utilizing the power of our REM technology to expand the scope of its BlueCruise hands-free highway pilot system. "REM mapping technology in our future versions of BlueCruise are really important for our hands-free driving solutions," Ford CEO Jim Farley told Prof. Shashua in the video below. "We just couldn't offer the systems we do at Ford without you, and we're betting on Mobileye for our future."
These are just the first two out of nine automakers currently working to implement our Cloud-Enhanced Driver-Assist solution into their vehicles.
The Full Spectrum of Mobileye Solutions
With the arrival of Cloud-Enhanced Driver-Assist, our range grows to five distinct (yet mutually reinforcing) solutions for driver assistance and autonomous driving.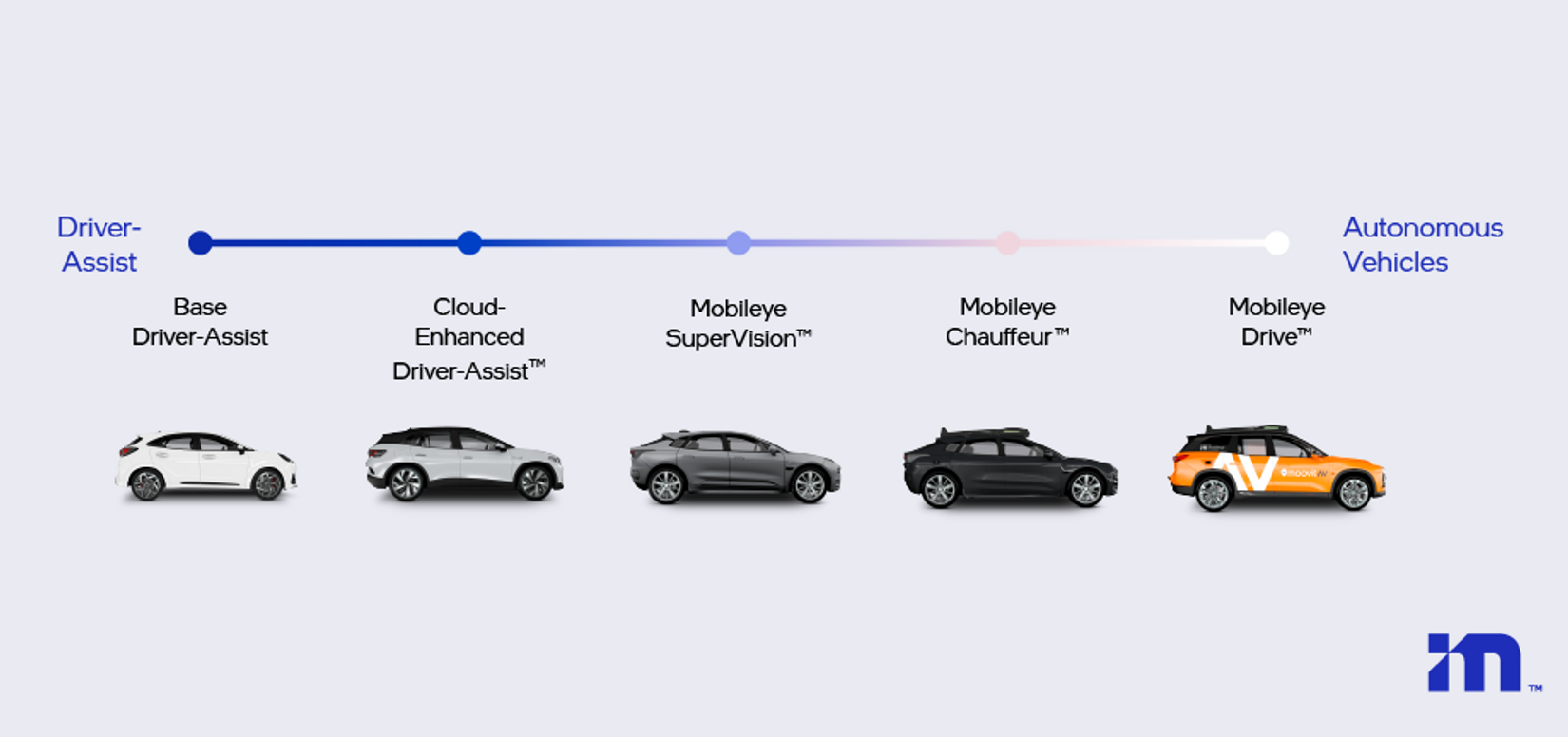 Our spectrum now encompasses base driver-assist, Cloud-Enhanced Driver-Assist™, Mobileye SuperVision™ (our next-generation premium driver-assist system), Mobileye Chauffeur™ (our turnkey solution for consumer autonomous vehicles), and Mobileye Drive™ (for commercial autonomous vehicles).
Visit our new solutions page to discover the full spectrum, and watch this space for more to come.
Press Contacts
Contact our PR team