Looking Back on 2020 at Mobileye
2020 was a challenging year, but Mobileye had a number of significant successes in ADAS development, data collection and self-driving cars.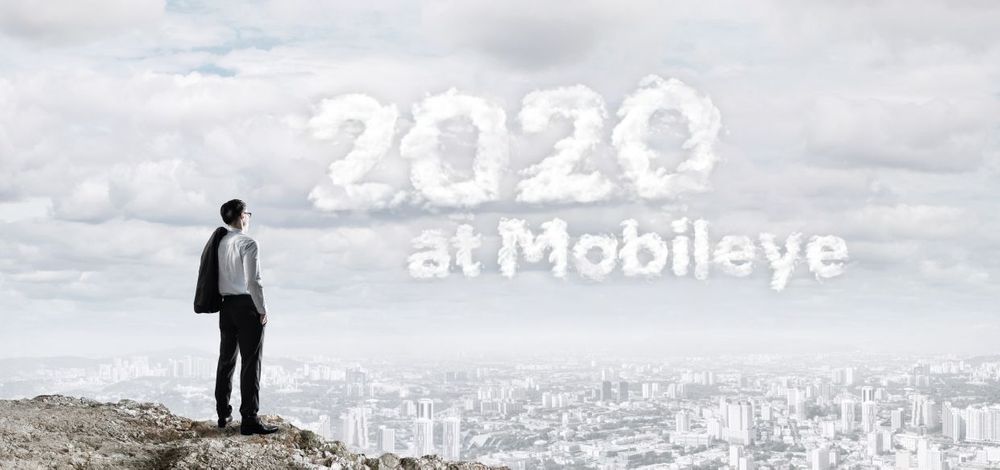 2020... what a year. It was difficult for all of us. Despite all the obstacles, and without minimizing the undoubted suffering both in Israel and worldwide, at Mobileye we're proud of the fact that we were able to not only weather the challenges of 2020, but even to make enormous strides forward. In fact, when we look back at the year, there is a lot to be proud of. So, as 2020 comes to a close, it's a good time to reflect on this year's highlights:
1. Intel's purchase of Moovit – Moovit brought with it hundreds of millions of users, strong relationships with public transportation companies worldwide, and a large proprietary transportation dataset. Working together, we're aiming towards offering the full stack of MaaS technology, from powering third-party fleets to running our own robotaxi fleet.
2. Mobileye SuperVision™ – In 2020, our ADAS technology took a major leap forward with the launch of Mobileye SuperVision. This system allows for a more comfortable as well as safer drive, using both REM and our RSS safety model. Not just an amazing product in and of itself, its development showed that we can use our self-driving car technology now to develop advanced products for our ADAS customers. In fact, this technology was the linchpin of a major deal we struck with Geely – one of China's largest car manufacturers.
3. Driverless MaaS in the UAE – At Mobileye, we believe that the first deployment of true self-driving cars will be as robotaxis. Plans to deploy these vehicles got a significant boost this year when Mobileye signed a strategic cooperation agreement for driverless Mobility-as-a-Service with the Al-Habtoor Group based in Dubai, one of the first deals after the Abraham Accords signed between Israel and the United Arab Emirates. The agreement between Al-Habtoor and Mobileye calls for equipping vehicles with Mobileye 8 Connect™ in early 2021 in order to map Dubai's roads and infrastructure, with initial deployment of self-driving cars there later in the year and the introduction of robotaxis in 2022.
4. REM™ demo in Munich – Mapping is one of the keys to self-driving cars and Mobileye had some major successes with our Road Experience Management™ (REM) technology this year. Thanks to REM, our self-driving test vehicles were able to drive in Munich within just days of their arrival there. In addition, REM was recognized as a breakthrough technology, earning a 2020 Pace Award.
5. Launch of the Mobileye.com blog – As a leader in ADAS, self-driving cars and roadway data collection, it's important for our voice to be heard regarding the vital issues affecting these technologies. To help get the word out we introduced the Mobileye.com blog, which covers important technological developments such as True Redundancy™, how Mobileye moved machine learning to the cloud and our adoption of Linux for safety-related applications.
6. Mobileye for the Community – The pandemic affected us all, but there were certain groups were particularly hard-hit. Mobileye committed itself to do its part to help those in need through "Mobileye for the Community." This program distributed NIS 10 million (over $3 million) to non-profit organizations helping the Israeli economy and society, with grants going towards everything from food distribution to online psychological services.
7. Moving On(line) – Like many companies around the globe, not least our parent Intel, Mobileye had to adjust to having many of our employees work from home. This demanded an extraordinary effort by our IT department to quickly develop an infrastructure allowing for more than a thousand secure home workstations, with almost no advance warning. Fortunately, they were more than up to the task, allowing the company to continue functioning (and even striving) with barely a hitch.
8. IMS and Smart Cities – Mobility is a critical part of smart cities, and that doesn't mean just robotaxis. Mobileye Data Services™ helps cities, road operators, and others track and manage their assets, including roads – even offering insights into bike lanes in New York, for example. In 2020, this division began a number of new projects, surveying roadside assets and monitoring mobility data in cities worldwide, including Rome and Barcelona.
9. The New Mobileye Campus in Jerusalem – While this year many employees were forced to work from home, as usual Mobileye was looking to the future. Construction on our new Jerusalem headquarters went full-steam ahead throughout 2020. This new state-of-the-art complex has plenty of room to meet the needs of our growing company: it will hold 2,700 employees, will have 8 floors, and include 65 conference rooms, 64 kitchenettes, 2 dining halls, 7 parking levels, numerous labs, a green roof, a gym and a spa.
10. Despite the challenges of 2020, Mobileye has managed not only to survive, but thrive, expanding into new markets and new regions. What's next? Follow us on Twitter, Facebook or LinkedIn (and of course here on our blog!) to learn more.
Press Contacts
Contact our PR team