Showcasing our Computer Vision at ECCV 2022
Mobileye demonstrated how our computer-vision technology is transforming human mobility at the 2022 European Conference on Computer Vision in Tel Aviv.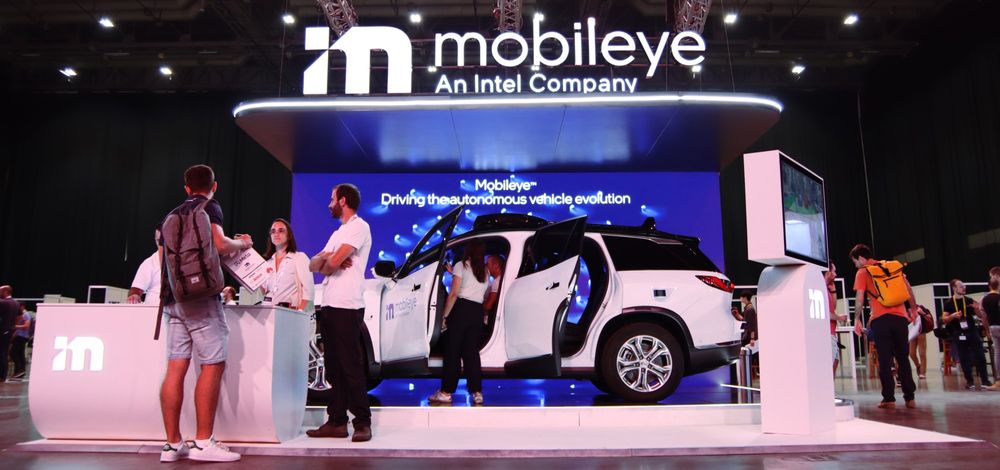 Mobileye's booth at ECCV Tel Aviv 2022 featured our robotaxi, interactive tabletop display, and unedited AV video.
Mobileye has a broad range of specializations, from machine learning to data analysis and mapping. But arguably more than anything else, we're a computer-vision company at our core. That's the technological discipline on which we were founded, and which has now been integrated into more than 125 million vehicles equipped with our technology. So, when one of the world's premier computer-vision conferences came to Israel for the first time in its history, we naturally came out in force.
Held last week in Tel Aviv, the 2022 European Conference on Computer Vision (ECCV) featured an array of speakers and exhibitors from across the industry and academia. And Mobileye – which is always looking to bring in top talents in the field – was present with what proved to be one of the most popular exhibits at the conference. Our booth on the show floor revolved around three engaging displays:
Our robotaxi occupied center-stage, with interactive tablets mounted on the dashboard and seatbacks inside showing footage of our autonomous vehicles testing in four locations around the world;
A larger screen played our unedited AV-drive video from New York; and
Our immersive interactive tabletop display showcased the various technologies we're putting into five of our most advanced applications, each with our computer-vision technology at its core – the robotaxi, Udelv Transporter, and Lohr i-Cristal (all powered by Mobileye Drive™), the Zeekr 001 (featuring Mobileye SuperVision™), and the consumer AV we're also developing with Zeekr (employing Mobileye Chauffeur™). More than 70 guests joined us for autonomous drives on surrounding roadways in one of three robotaxis we had stationed outside the main hall. With 11 cameras on board, our robotaxi (based on the NIO ES8 electric crossover) drives primarily on computer vision, with radar and lidar offering redundant sensing capabilities.
Our chief executive Prof. Amnon Shashua served among the general chairs of the conference, where some of our top engineers also delivered presentations on Knowledge Distillation for Tasks Consolidation.
With so many leading experts in the field in town for the conference, it was a unique privilege to demonstrate how we're applying computer-vision technology to make our roads safer today and change the face of human mobility for the future.
Press Contacts
Contact our PR team