blog
|
September 28, 2023
Volkswagen ID. Buzz Showcases Mobileye Drive™ at IAA 2023
Electric passenger van on display in Munich incorporates Mobileye's turnkey self-driving solution for autonomous mobility-as-a-service.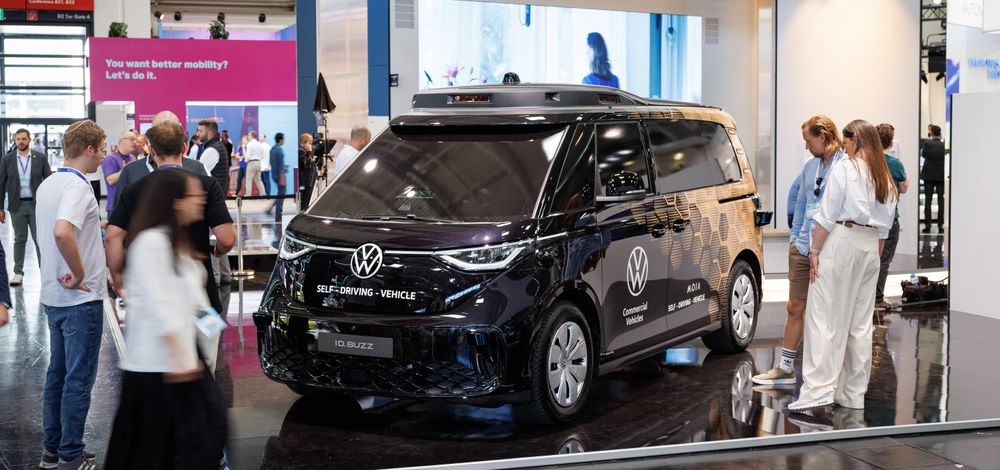 Showcased at IAA 2023, the VW ID. Buzz with Mobileye Drive™ is testing in Germany and the US. (Photo courtesy of Volkswagen.)
The Volkswagen ID. Buzz was one of the stars of this year's IAA Mobility show. On VW's show stand sat a bright yellow camper-van conversion for visitors to explore, while directly across the aisle at our booth, and in the test-drive area outside, appeared the self-driving version you see here.
The ID. Buzz showcased by Mobileye at the IAA is one of the latest vehicles to incorporate Mobileye Drive™, our turnkey self-driving system, and it is currently undergoing testing on both sides of the Atlantic.
To deliver its autonomous driving capabilities, the vehicle features an array of sensors – including nine high-resolution cameras, four parking cameras, three long-range lidars, and six short-range lidars. To operate safely and effectively, it encompasses Mobileye's unique tech innovations: True Redundancy™ sensing systems, REM™ crowdsourced AV maps, and the RSS™-based driving policy. For efficient processing power, it utilizes four EyeQ™6 High systems-on-chips. Future versions are slated to upgrade the EyeQ chips and augment their sensing suite with our new imaging radars.
The scope of the technologies on board and the autonomous driving capabilities they deliver make this one of the most advanced in a long line of projects Mobileye has undertaken with the Volkswagen Group to date. Previously announced collaborations include the industry's first camera-only Automatic Emergency Braking system with Audi, the first Cloud-Enhanced Driver-Assist™ application with Volkswagen, and integrating the eyes-on/hands-off driving capabilities of Mobileye SuperVision™ into new Porsche models.
This latest project has Volkswagen Commercial Vehicles testing ID. Buzz autonomous vehicles in Munich, Germany, and Volkswagen Group of America testing in Austin, Texas. Once the vehicle is ready for widespread deployment, VW aims to commence autonomous ridesharing services through its own MOIA division in Europe, and with independent transport operators in the North America.
The ID. Buzz was one of several autonomous vehicles driven by Mobileye on display at IAA this year. It was joined there by driverless shuttles from HOLON and Schaeffler – both of which are also enabled by Mobileye Drive, the self-driving solution that's leading the industry towards the future of autonomous mobility.
The VW ID. Buzz autonomous vehicle incorporates an array of Mobileye technologies (Photo: Volkswagen)
The Volkswagen ID. Buzz featuring Mobileye Drive™ at IAA Mobility 2023 (Photo: Volkswagen)
Volkswagen is testing ID. Buzz autonomous vehicles with Mobileye Drive on both sides of the Atlantic (Photo: Mobileye)
Mobileye Drive™ incorporates an array of camera, radar, and lidar sensors to enable autonomous driving (Photo: Mobileye)
One of several vehicles powered by Mobileye Drive™ at IAA 2023 was the VW ID. Buzz (Photo: Volkswagen)
Mobileye's unique approach of True Redundancy separates the sensing subsystems for increased safety (Photo: Volkswagen)
Mobileye showcased the VW ID. Buzz and Zeekr 001 equipped with our most advanced solutions at IAA 2023 (Photo: Mobileye)
The VW ID. Buzz autonomous vehicle incorporates an array of Mobileye technologies (Photo: Volkswagen)
Press Contacts
Contact our PR team