Udelv Taps Mobileye to Power Autonomous Delivery Vehicles
Partnership between Mobileye and Udelv slated to put more than 35,000 autonomous delivery vehicles on the road by 2028, with commercial operations starting in 2023.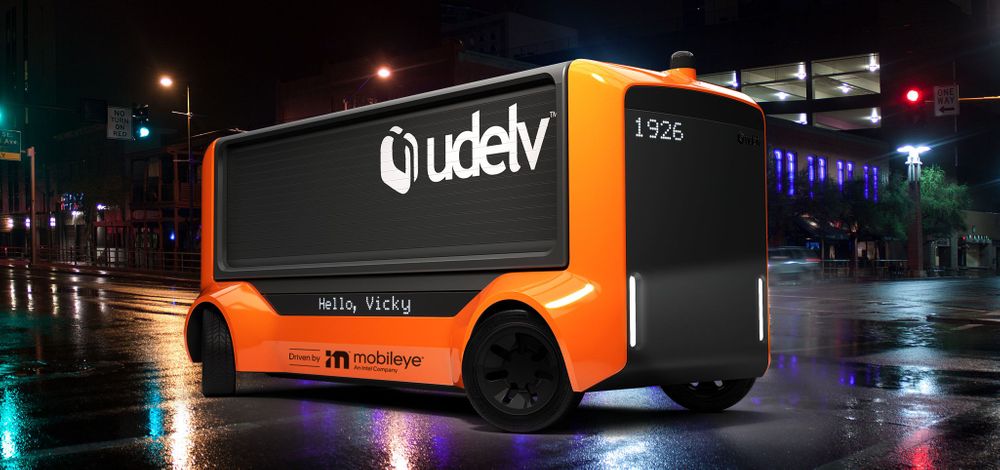 Udelv Transporter autonomous delivery vehicles powered by Mobileye
Today Mobileye took another big step towards the future of autonomous mobility with a new partnership that will put autonomous vehicles powered by Mobileye technology on American roads in just a few short years.
One of the largest AV tech deals to date, the collaboration will see the Mobileye Drive™ full-stack self-driving system deployed in Transporters – autonomous delivery vehicles developed by our new partners at Udelv. The purpose-built, fully electric Transporters will benefit from key Mobileye innovations, including the EyeQ® SoC, True Redundancy™ sensing suite, REM™ mapping tech, and autonomous driving policy backed by the Responsibility-Sensitive Safety model – all part of the Mobileye Drive system also announced today.
With Mobileye Drive, the Udelv Transporters will be capable of Level 4 autonomous point-to-point operation for middle- and last-mile delivery of goods. Udelv's proprietary tele-operations system will enable the vehicles' maneuvering in parking lots, loading zones, apartment complexes, and private roads. Mobileye will also provide technical oversight for the integration of our modular self-driving stack with Udelv's Delivery Management System, and over-the-air software support for the lifetime of the vehicles.
The collaboration calls for producing more than 35,000 Transporters by 2028. Commercial operations are slated to begin in 2023, with the first pre-order of 1,000 vehicles already placed by Donlen – one of America's largest commercial fleet management companies.
See the full news release for more details on the Udelv partnership, and read more about our other self-driving Mobility-as-a-Service partnerships here on the Mobileye blog.
Press Contacts
Contact our PR team