blog
|
September 07, 2021
Launching our Self-Driving Robotaxi in Germany
Driven by Mobileye and operated by Sixt, our newly revealed robotaxis are slated to hit the streets of Munich next year.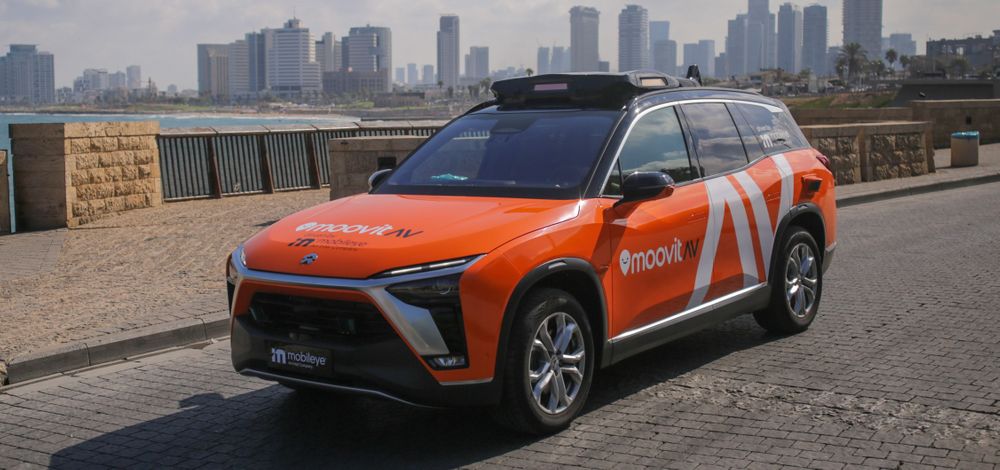 The Mobileye robotaxi in Tel Aviv-Jaffa
During his keynote presentation at the 2021 IAA Mobility show, Intel CEO Pat Gelsinger revealed our new self-driving robotaxi, powered by Mobileye Drive™ and ready for commercial deployment. And it's only fitting that it should be hitting the streets of Munich among its first applications.
Why Germany?
Germany is, after all, the birthplace of the automobile, and remains a major global hub of the automotive industry. Germany has a famously extensive roadway network. And it's home to several of the world's leading automakers and suppliers, many of which remain among our best customers and key partners.
The country was also the first outside of Israel in which we began testing our developmental autonomous vehicle. And Germany recently became the first country in the world to authorize the deployment of Level 4 self-driving vehicles without a safety driver behind the wheel, anchoring its place at the vanguard of mobility innovation.
In Partnership with Sixt
Where else, then, would be a more suitable location both to reveal our new robotaxi and to deploy it commercially? That's just what we're doing in collaboration with Sixt SE, a leading international mobility services provider based in Germany.
The collaboration was officially announced when Sixt SE co-CEO Alexander Sixt joined Gelsinger on stage during his keynote at IAA. Early-rider testing is slated to start in Munich in 2022 before expanding robotaxi services across Germany and into other European countries later this decade. Customers will be able to order rides through their choice of Sixt and Moovit mobile apps.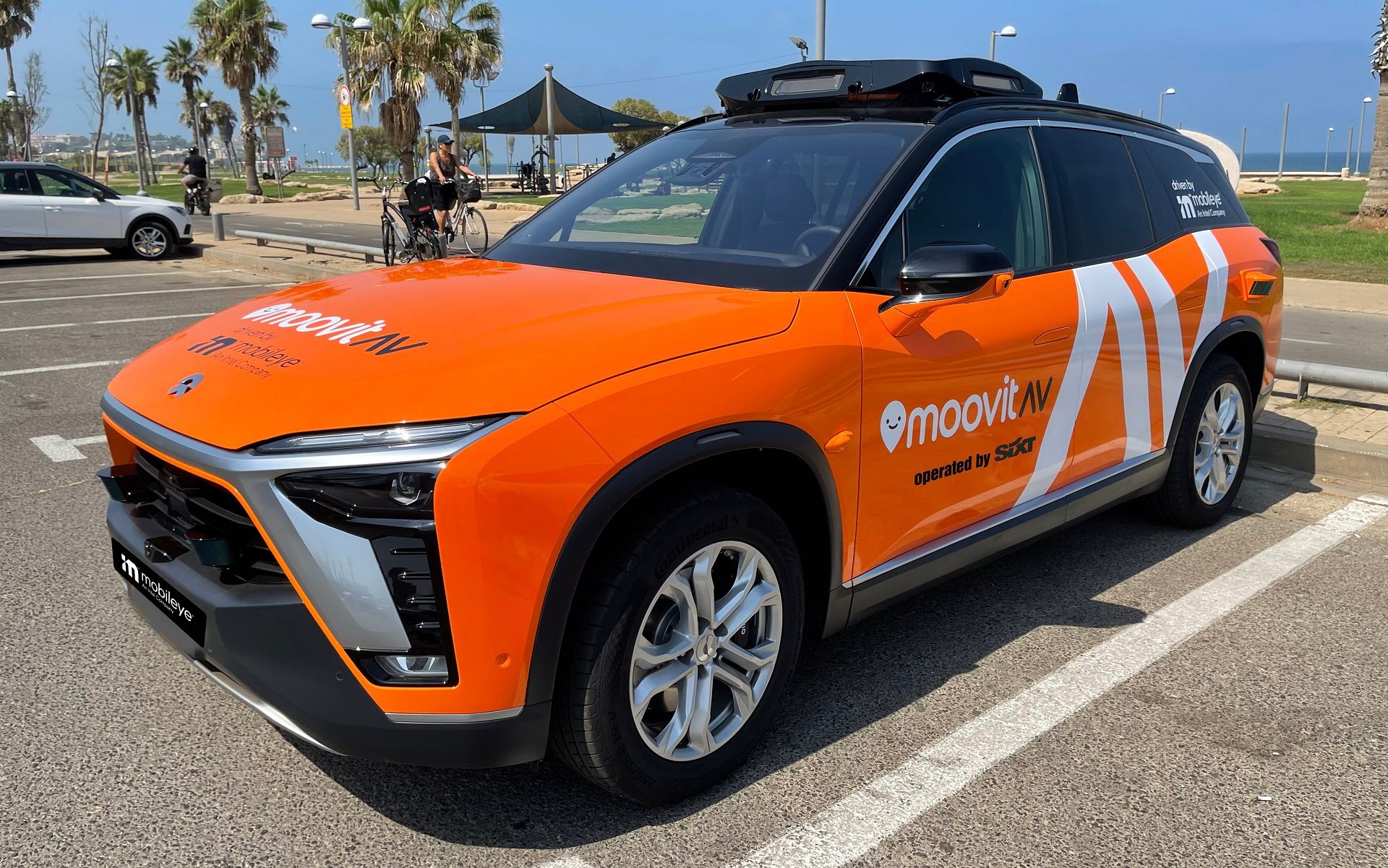 The Mobileye Robotaxi
Our new six-passenger, all-electric, self-driving robotaxi revealed at IAA incorporates a full range of technologies and services to enable fully autonomous operation and deployment.
Central to that package is Mobileye Drive, our self-driving system. The vehicle encompasses eleven cameras positioned around the vehicle, long- and short-range LiDAR sensors and a full array of radar sensors. The cameras and radar & LiDAR sensors operate in two independent subsystems to deliver True Redundancy™ in perception capabilities. The sensors feed the decision-making algorithms in our purpose-built EyeQ® System-on-a-Chip, filtered through our Responsibility-Sensitive Safety envelope. The Mobileye Roadbook™ digital map provides an additional layer of awareness of the driving environment, fed by crowdsourced data gathered by REM™.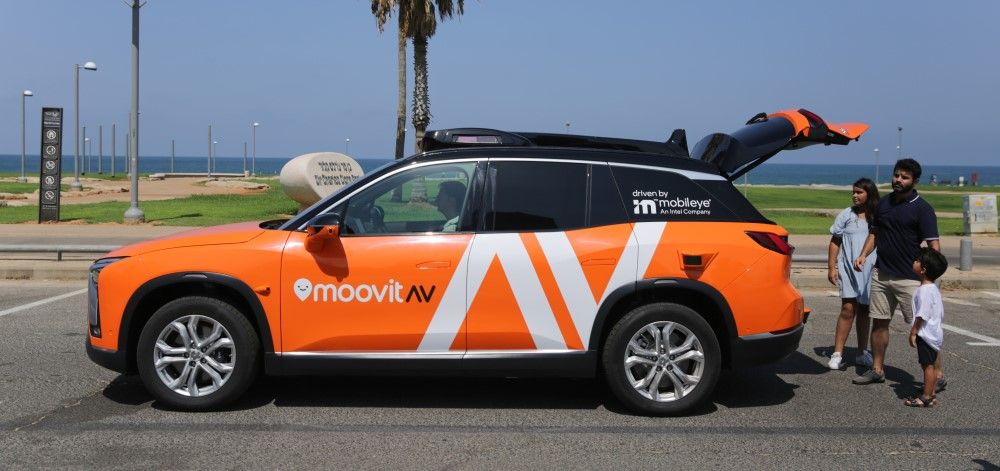 Our sister-company Moovit provides a full suite of robotaxi services, including fleet management tools, tele-operations system, mobility intelligence for optimization and deployment, and rider-experience services.
Our technology is being integrated as well into a new platform for self-driving shuttles from German automotive components supplier Schaeffler Group, also debuted at IAA. Mobileye Drive was previously announced for deployment in the Udelv Transporter and the i-Cristal shuttle from French partners Transdev ATS and Lohr Group.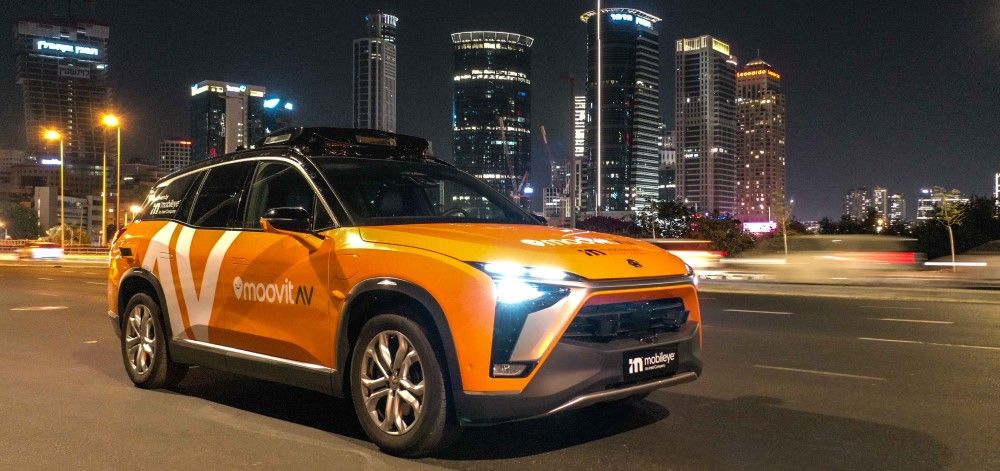 Munich and Beyond
Launching our robotaxi in Munich represents a significant step on the road to the future of mobility. We look forward to rolling out the service in Germany and to expanding to additional locations – with Sixt in Europe, with Moovit in Tel Aviv, and beyond – to bring the life-changing promise of self-driving mobility everywhere, in every way, to everyone.
Read more about our robotaxi and our collaboration with Sixt, and watch this space for more developments from IAA 2021.
Press Contacts
Contact our PR team