Mobileye Had a 'Big Week' at CES
Here's what leading news outlets had to say about our revelations at this year's show.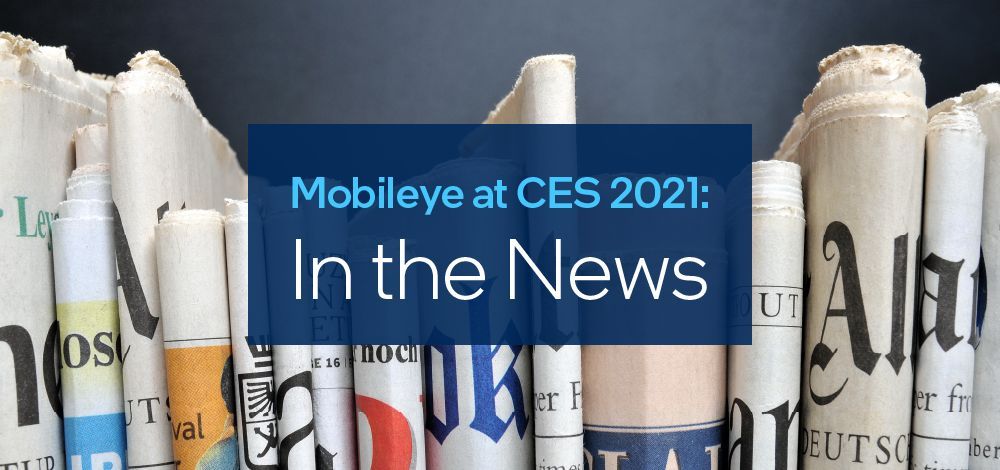 Mobileye in the news from CES 2021
Our chief executive spoke extensively during CES this year, holding multiple online sessions to showcase the latest technological developments we're working on at Mobileye. Several leading publications picked up on the news; here's what they had to say about Mobileye's revelations at this year's virtual tech expo.
"Aspirations to place self-driving technology in the hands of ordinary vehicle owners had largely been relegated to the back burner," Automotive News noted. "That's changing. Global supplier Mobileye unwrapped plans last week to make self-driving technology available in personally owned vehicles in 2025."
"A lecture by Mobileye CEO Amnon Shashua on Tuesday at CES 2021 was one of the more 'believable presentations' ever given on the topic of AVs," reported EE Times, citing analyst Egil Juliussen.
"Mobileye, a subsidiary of Intel, is scaling up its autonomous vehicle program and plans to launch test fleets in at least four more cities over the next several months," TechCrunch reported. "The expansion announcement, along with details about a new lidar System on Chip product that is under development and will come to market in 2025, illustrates Mobileye's ambitions to commercialize automated vehicle technology and bring it to the masses."
"As part of Intel corporation, Mobileye can tap into manufacturing resources few can match, not only to produce the chips on schedule but at scale," noted Wired. "More importantly, the lidar SoC is emblematic of Intel's way forward: looking beyond the CPU."
"Mobileye aims to advance multiple segments of the autonomous vehicle market and bring AVs closer to mass adoption," Forbes reported. "The strategies and technologies revealed during CES 2021 seem poised to do just that."
It's been a "pretty big week for you so far at CES," Yahoo! Finance Live host Brian Sozzi said in a video interview with Professor Shashua. Sozzi closed by saying "count me as one that is excited to take an Instagram story as a driverless car goes right by me, maybe at 65 miles an hour."
"If Mobileye's plans for 2021 are anything to go by," concluded CNET, "it's probably going to be a big year for self-driving car development and we're excited to see it."
Watch the highlights and full replays from CES below, and read the news release for more.
Press Contacts
Contact our PR team