CES: Udelv Unveils Mobileye-Powered AV Transporter
The autonomous, electric delivery vehicle will help solve two challenges: a shortage of drivers and fleet electrification.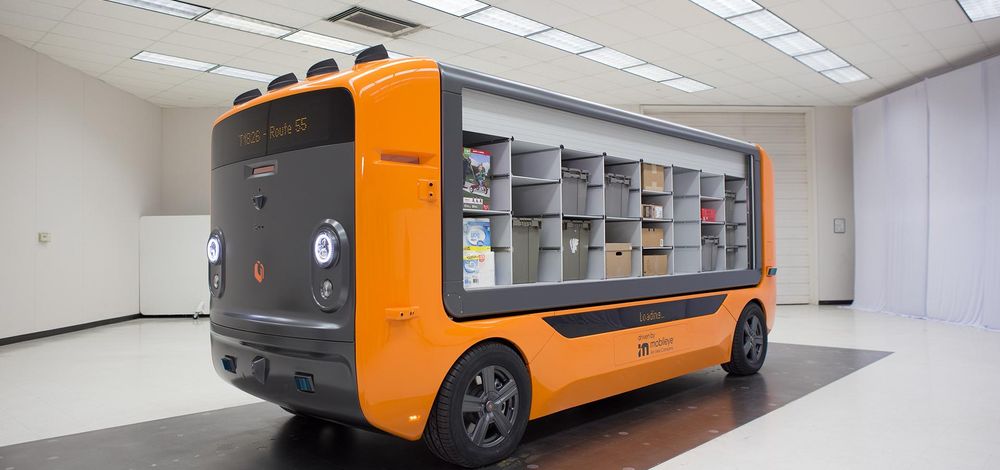 Udelv aims to have 50,000 units of the Transporter, driven by Mobileye, on public roads by 2028.
This news content was originally published on the Intel Corporation Newsroom.
​Today, Udelv unveiled its Transporter – the company's next-generation autonomous delivery vehicle driven by Mobileye Drive™ – in advance of this week's International Consumer Electronics Show 2022 in Las Vegas. The cab-less Transporter is designed for commercial delivery fleets and is expected to help solve two of the most pressing challenges facing commercial fleets: the current shortage of drivers and the coming electrification of fleets.
The Mobileye Drive self-driving system is powered by the Mobileye EyeQ® 5 system-on-chip for automotive applications and a robust suite of cameras, lidars and radars. To enable Udelv to rapidly deploy the Transporter at scale, the company has also integrated Mobileye's Road Experience Management™,  a crowdsourced, continuously updated map of the world that digitizes what autonomous vehicles need to navigate.
The Transporter features a patented cargo space that is secure, automated, hot-swappable and modular. It is specifically designed for autonomous delivery and can carry up to 2,000 pounds of cargo and make up to 80 stops per run. It is made to deliver nearly anything from convenience goods, e-commerce packages and groceries to auto parts, electronics and medical supplies for B2B and B2C applications.
Udelv aims to deploy the first Transporters, driven by Mobileye in 2023. (Credit: Udelv)
The Udelv Transporter's uPod can carry up to 2,000 pounds of cargo and make up to 80 stops per run. (Credit: Udelv)
The Udelv Transporter features the Mobileye Drive self-driving system, complete with cameras, lidars, radars, and EyeQ5 system-on-chip. (Credit: Udelv)
Udelv aims to deploy the first Transporters, driven by Mobileye in 2023. (Credit: Udelv)
Press Contacts
Contact our PR team