Mobileye Self-Driving
Mobility Services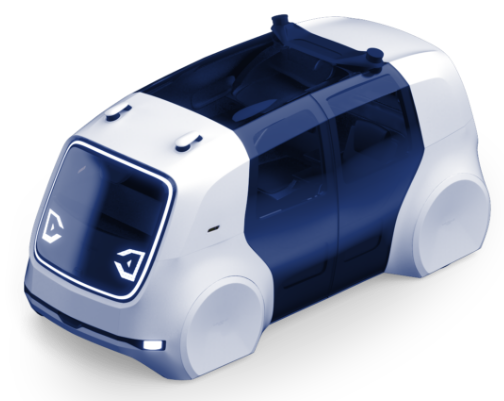 At Mobileye, we are transforming mobility by bringing cutting-edge, safe-by-design self-driving technology and a complete, modular solution to the market . Together with Moovit, we are a partner of choice in transforming mobility services, while creating an accessible, safe, environmentally- friendly, and affordable experience for riders.
The Future of
Self-Driving Mobility
Our goal is not only to get people from Point A to Point B in an autonomous vehicle, but make mobility safer, smarter, more sustainable, and affordable-for-all. The Mobileye-Moovit offering features a superior self-driving system, best-in-class user experience and extensive mobility intelligence data – a critical asset to help organizations and societies optimize fleet utilization, on-demand deployment and minimize traffic congestion.
Mobileye DriveTM
A turn-key self-driving system ready for commercial deployment at-scale for Mobility-as-a-Service, delivery vehicles, and more.
L4/L5 compute based
on EyeQ®5 SoCs
Full Sensing Suite
Based on the Mobileye Trinity
A Full Suite of Solutions
Customized Self-Driving Mobility Offerings
We work with mobility operators around the world who seek to harness self-driving technology to better serve their customers and strategically position themselves in the future of mobility.
Mobileye Powered Self-Driving Initiatives Around the World
Tel Aviv, Israel

"Mobileye and Moovit have joined forces for the purpose of launching our first self-driving Mobility-as-a-Service solution in Tel Aviv. We look forward to offering Tel Aviv residents and visitors safer, cleaner and more convenient transportation with self-driving electric vehicles."

Johann (JJ) Jungwirth

Vice President of Mobility-as-a-Service (MaaS) at Mobileye
WILLER, Japan

"Collaboration with Mobileye is highly valuable for WILLER and a big step moving forward to realize our vision of innovating transportation services: travel anytime and anywhere by anybody."

Shigetaka Murase

founder and CEO of WILLER
Al-Habtoor, UAE

"The technology which is made accessible to the UAE…between Al Habtoor Group and Mobileye will improve the quality of life for all UAE residents."

Khalaf Ahmad Al Habtoor

Founding Chairman of Al Habtoor Group
RATP, France

"Autonomous vehicles are a priority area of innovation for the RATP Group. Collaborating with Mobileye will allow us to test and develop new mobility services, in order to offer our riders a door-to-door, connected and sustainable ride experience."

Marie-Claude Dupuis

RATP Group Strategy, Innovation and Development Director
California, USA

"Mobileye is the only company providing a full-stack self-driving system with commercial viability and scale today. The readiness of Mobileye Drive™, along with its vast map coverage of North America, Europe and Asia, will allow us to ramp up the production and deployment of Udelv Transporters and rapidly offer the service at scale to our expanding list of customers.""

Daniel Laury

Co-Founder and CEO of Udelv, USA