Mobileye's proven leadership in ADAS technologies is based in our EyeQ® family system-on-chip (SoC) devices. More than 27 car manufacturers have chosen the EyeQ for their assisted-driving technologies based on its ability to support complex and computationally intense vision processing, while maintaining low power consumption.
Mobileye's latest fifth-generation EyeQ is able to support fully-autonomous (Level 5) vehicles.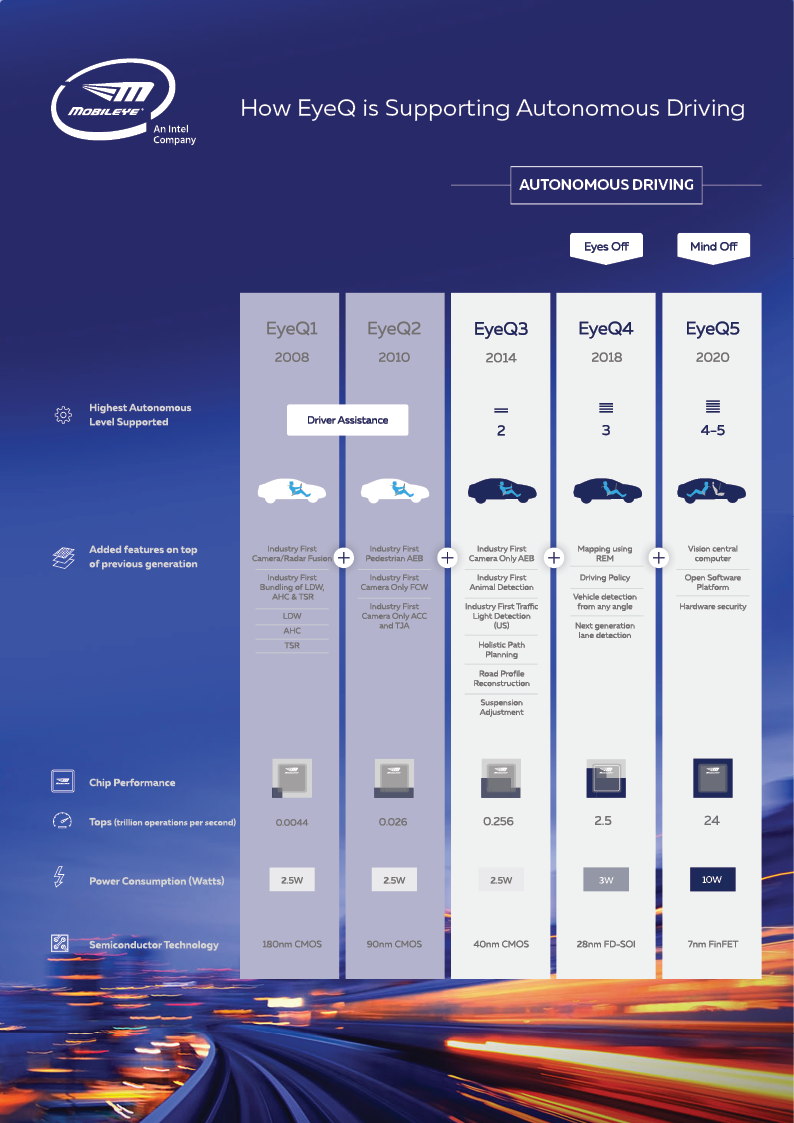 Mobileye has been able to achieve the power-performance-cost targets by employing proprietary computation cores (known as accelerators), which are optimized for a wide variety of computer-vision, signal-processing, and machine-learning tasks, including deep neural networks. These accelerator cores have been designed specifically to address the needs of the ADAS and autonomous-driving markets. Each EyeQ chip features heterogeneous, fully programmable accelerators; with each accelerator type optimized for its own family of algorithms. This diversity of accelerator architectures enables applications to save both computation time and chip power by using the most suitable core for every task. Optimizing the assignment of tasks to cores thus ensures that the EyeQ provides "super-computer" capabilities within a low-power envelope to enable price-efficient passive cooling.
The fully programmable accelerator cores are as follows:
The Vector Microcode Processors (VMP), which debuted in the EyeQ2, are now in their 4th generation of implementation in the EyeQ5, and are designed in most advanced VLSI process technology nodes – down to 7nm FinFET in the 5th generation. The VMP, a VLIW SIMD processor with cheap and flexible memory access, provides hardware support for operations common to computer vision applications and is well-suited to multi-core scenarios. Its computational power targets 24 trillion operations per second, while drawing only 10 watts in a typical application.
The Multithreaded Processing Cluster (MPC) was introduced in the EyeQ4 and now reaches its 2nd generation of implementation in the EyeQ5. The MPC is more versatile than any GPU and more efficient than any CPU.
The Programmable Macro Array (PMA) was introduced in the EyeQ4 and now reaches its 2nd generation of implementation in the EyeQ5. The PMA enables computation density nearing that of fixed-function hardware accelerators without sacrificing programmability.
In addition to Mobileye's innovative and well-proven computer vision accelerators, the EyeQ features generic multithread CPU cores to provide the complete and robust computing platform that ADAS/AV applications demand.
Mobileye has a long-standing cooperation with STMicroelectronics (STM) for implementation of the EyeQ devices  Leveraging its substantial experience in automotive-grade designs, STM provides support in state-of-the-art physical implementation, as well as automotive-grade memories, high-speed interfaces, and system-in-package design to ensure that the EyeQ devices meet the full qualification process according to the highest automotive standards.
Mobileye has a proven track record of developing hardware to meet the challenges of each new level of autonomous driving and we expect our computing capabilities to continue to grow exponentially. Indeed, in order to support running increasingly greater numbers of different algorithms simultaneously, each generation of the EyeQ has been approximately eight times more powerful than its predecessor, all the while maintaining the requisite low power dissipation.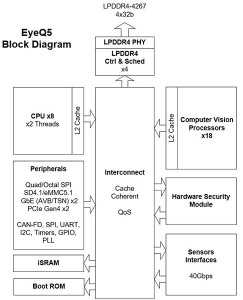 ADAS and especially high levels of autonomous driving require an unprecedented level of focus on functional safety. EyeQ devices are developed to be designed into systems that require the highest grade of safety in automotive applications (i.e., ASIL D, according to the ISO 26262 standard).
In addition to the safety requirements inherent to an automotive application, security is no less a concern. To support the cyber-security requirements of ADAS/AV applications, the EyeQ5 was designed with an integrated hardware security module which includes various innovative HW security features. This enables system integrators to support secure over-the-air software updates, secure in-vehicle communication, etc.
EyeQ devices are delivered to automakers and Tier1 suppliers along with a full suite of hardware accelerated algorithms and applications that are required for ADAS and autonomous driving. Along with this,  Mobileye supports an automotive-grade standard operating system and provides a complete software development kit (SDK) to allow customers to differentiate their solutions by deploying their algorithms on EyeQ5. The SDK may also be used for prototyping and deployment of neural networks, and for access to Mobileye pre-trained network layers. Uses of EyeQ5 as an open software platform are facilitated by such architectural elements such as hardware virtualization and full cache coherency between CPUs and accelerators.
Autonomous driving requires fusion processing of dozens of sensors, including high-resolution cameras, radars, and LiDARs. The sensor-fusion process has to simultaneously grab and process all the sensors' data. For this purpose, EyeQ5 dedicated IOs support at least 40Gbps data bandwidth. More sensors may be supported via PCIe and Gigabit Ethernet ports with 18Gbps additional data bandwidth.
EyeQ5 implements two PCIe Gen4 ports for inter-processor communication, which could enable system expansion with multiple EyeQ5 devices or for connectivity with an application processor. EyeQ devices implement high performance network on chip interconnect and multi-channel low power DDR interfaces, to support high computational and data bandwidth requirements.