Mobileye and MAN Truck & Bus launch collaboration for AV city buses
Together, we're launching a multi-level cooperation to expand Mobileye Drive™ into city buses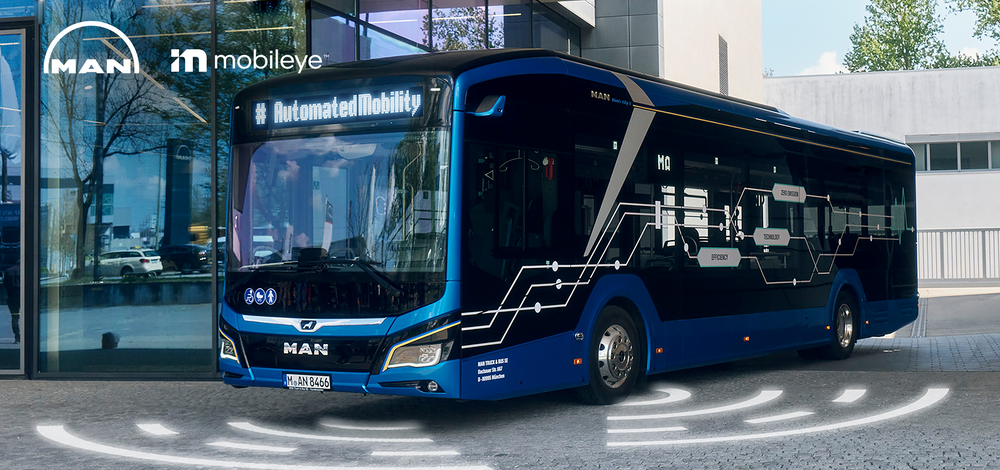 MAN Truck & Bus and Mobileye collaborate on autonomy in public transit
Mobileye and MAN Truck & Bus today announced a collaboration to explore autonomy in public transit, integrating state-of-the-art autonomous vehicle technology into the award-winning city buses of MAN. This builds on Mobileye's strategy of working closely with vehicle manufacturers to integrate autonomous technology seamlessly across platforms. 
This new collaboration is a milestone for MAN to further the path to urban bus automation. AVs will be able to significantly improve the total cost of ownership and lower the impact of expected driver shortages. 
"We are excited to work with MAN Truck & Bus to demonstrate the benefits of self-driving buses. Our Mobileye Drive™ system offers a flexible and scalable AV solution that can be used in various purpose-built vehicle platforms," said Johann Jungwirth, Senior Vice President, Autonomous Vehicles at Mobileye. 
Mobileye Drive envisions a cutting-edge, comprehensive self-driving solution for commercial use by vehicle manufacturers. It includes Mobileye's advanced EyeQ™ systems-on-chip, as well as sensing, mapping, and driving policy technologies to build a full-stack autonomous driving system for designated design domains. Mobileye Drive's sensor configuration consists of an array of cameras, radars, and lidars that can be adapted to a variety of vehicle platforms – with MAN as its first application in bus transit. 
Mobileye will utilize the knowledge gained through first test operations with Mobileye Drive in Germany to implement into the MAN city bus. The program's first milestone will be to integrate Drive into a MAN Lion's City E bus with a safety driver as part of a larger research project in Munich, Germany, targeted for 2025. Following that trial, further test projects would be launched, building toward a goal of series production by the end of the decade. 
Press Contacts
Contact our PR team