press-kit
|
October 26, 2022
מובילאיי הופכת שוב לחברה ציבורית
רשומה כעת בנאסד"ק תחת הסימול MBLY, בעקבות הנפקתה ע"י אינטל.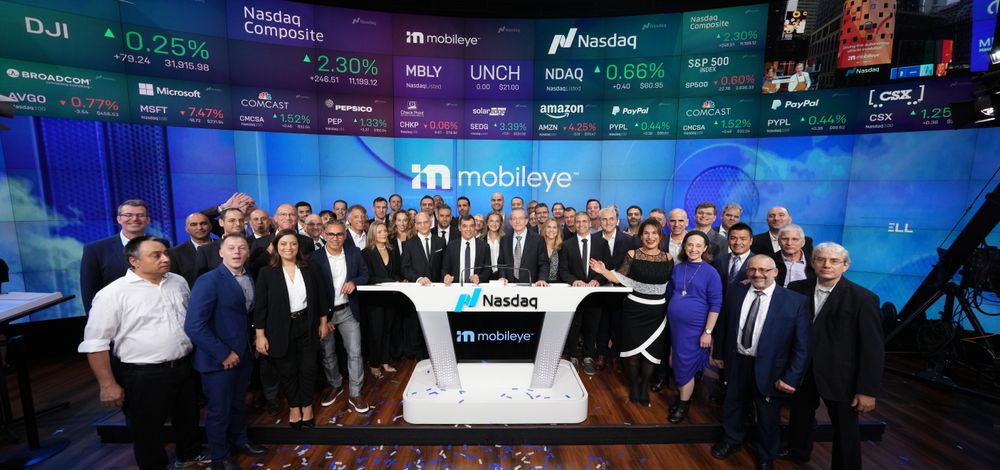 Mobileye team rings the Nasdaq opening bell celebrating the company's return to the U.S. public markets, trading under the ticker "MBLY." Credit: Photography courtesy of Nasdaq, Inc.
מובילאיי החלה להיסחר היום בנאסד"ק תחת הסימול MBLY בעקבות הנפקתה ע"י חברת האם, אינטל. בהתבסס על הרזומה החדשני והמוצלח של מובילאיי כחברה של אינטל, ההנפקה פותחת את ערכה של מובילאיי עבור בעלי המניות. היום מצוינת חזרתה של מובילאיי לשווקים הציבוריים מאז שנרכשה על ידי אינטל בשנת 2017. אינטל ומובילאיי ציינו את אבן הדרך מנאסד"ק בטיימס סקוור, ניו יורק; ממטה מובילאיי בירושלים; ומשאר משרדיה של החברה ברחבי העולם. 
הלוגו של מובילאיי
Mobileye logo horizontal
Mobileye logo stacked
Mobileye logo horizontal
Intel CEO and Mobileye Global Inc. Chairman Pat Gelsinger. (Credit: Photography courtesy of Nasdaq, Inc.)
Intel CEO Pat Gelsinger at the Nasdaq MarketSite to launch Mobileye's IPO. (Credit: Photography courtesy of Nasdaq, Inc.)
Mobileye executive leadership team at Nasdaq. (Credit: Photography courtesy of Nasdaq, Inc.)
Ringing the bell on Listing Day at the Nasdaq stock exchange upon Mobileye's IPO. (Credit: Photography courtesy of Nasdaq, Inc.)
Prof. Amnon Shashua (Mobileye CEO) and Pat Gelsinger (Intel CEO and Mobileye chairman) ring the opening bell at Nasdaq. (Credit: Photography courtesy of Nasdaq, Inc.)
Mobileye CEO Prof. Amnon Shashua on Listing Day at the Nasdaq MarketSite. (Credit: Photography courtesy of Nasdaq, Inc.)
Intel CEO Pat Gelsinger, Nasdaq president Nelson Griggs, and Mobileye board member Eyal Desheh at opening of trading. (Credit: Photography courtesy of Nasdaq, Inc.)
Intel CEO Pat Gelsinger and Mobileye CEO Prof. Amnon Shashua discuss the IPO at the Nasdaq. (Credit: Photography courtesy of Nasdaq, Inc.)
Intel CEO Pat Gelsinger and Mobileye CEO Prof. Amnon Shashua with senior leadership at the Nasdaq. (Credit: Photography courtesy of Nasdaq, Inc.)
Mobileye Founder and CEO, Amnon Shashua, speaks about the listing of Mobileye shares on the Nasdaq Stock Exchange. (Credit: Photography courtesy of Nasdaq, Inc.)
Mobileye Founder and CEO, Amnon Shashua, speaks about the listing of Mobileye shares on the Nasdaq Stock Exchange. (Credit: Photography courtesy of Nasdaq, Inc.)
Intel CEO and Mobileye Global Inc. Chairman Pat Gelsinger. (Credit: Photography courtesy of Nasdaq, Inc.)
Press Contacts
Contact our PR team