news
|
September 06, 2023
smart chooses Mobileye SuperVision™ for advanced driving automation
Special edition model to feature SuperVision-based features for point-to-point automatic navigation on highways and urban expressways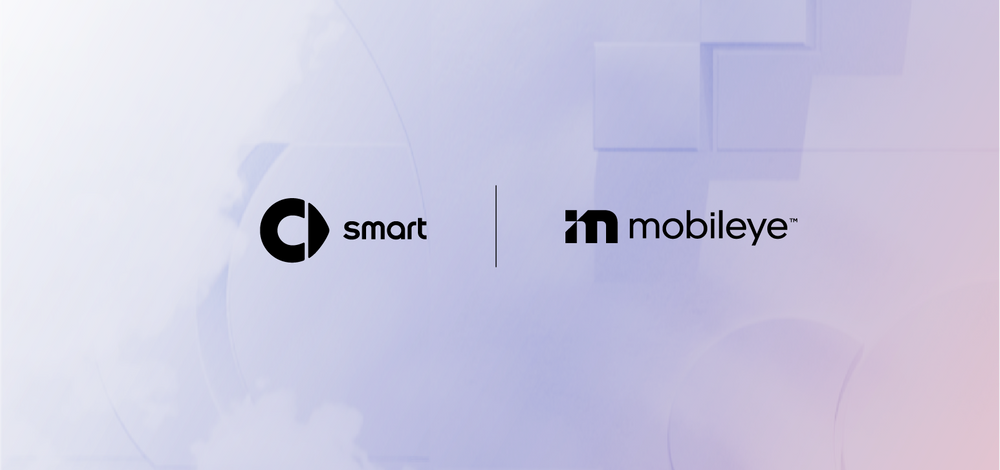 Smart and Mobileye join forces for SuperVision
HANGZHOU AND JERUSALEM, 6 September 2023 — smart, the new-premium intelligent all-electric auto brand, announced today a special upcoming model will feature Navigation smart Pilot (NSP) and a series of highly advanced driver-assistance features built upon the Mobileye SuperVision™ system.  
The special edition EV will offer smart Pilot Assist 2.0 version, which will be designed to gradually enable point-to-point automatic navigation on highways and urban expressways, automated lane changes, automated on/off-ramp assist and intelligent traffic safety functions within identified operational design domains, building off the existing strong safety performance in the smart #1. This special edition will also highlight smart's global ambitions. 
Mr. Yang Jun, Vice President of Global Research and Development at smart Automobile, said: "Since the birth of the brand, smart has always been led by the vision of exploring the best solutions for future urban mobility. We believe that the smarter ADAS technology, will further enhance the competitiveness of the new generation of smart all-electric product family. Leveraging the R&D capability and the collaboration with industry leading partners, such as Mobileye, smart will continue elevating the brand's technology label, providing more intelligent, safer urban mobility experience to the users." 
The SuperVision-based system leverages 11 cameras – including seven 8-megapixel cameras – and radar, along with a robust driving policy. The system runs on two Mobileye EyeQ5™ system-on-chips, an advanced custom 7-nanometer ADAS chipset, building on Mobileye's two decades of experience in applied AI and machine learning to handle AI tasks with high energy efficiency, a key consideration for electric vehicles. 
"We're excited to launch this new era of collaboration with the smart brand, offering new capabilities built from the foundation of our SuperVision technology," said Johann Jungwirth, senior vice president of autonomous driving at Mobileye. "SuperVision complements smart's commitment to offering the future of urban mobility globally."  
With today's announcement, smart joins ZEEKR and Polestar in offering SuperVision-based services to customers. More details about the model will be released soon in the fourth quarter of 2023. 
Press Contacts
Contact our PR team