Research Groups Name Mobileye AV Leader
Guidehouse Insights & ABI Research both placed Mobileye in number one position across categories in recent competitive assessments of AV technology suppliers.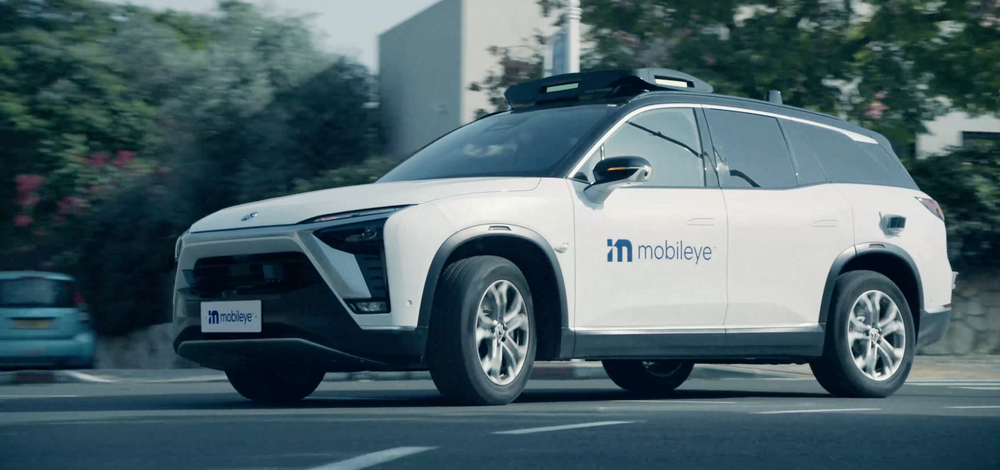 A NIO ES8 equipped with Mobileye's self-driving hardware and software.
JERUSALEM, March 2, 2023 — Mobileye has been recognized as the leader in the development of autonomous vehicle technology by two leading research groups, Guidehouse Insights and ABI Research. In assessing several technology companies pursuing the AV market, both the Guidehouse Insights Leaderboard: Automated Driving Systems and the inaugural ABI Research Autonomous Vehicle Platforms reports concluded that Mobileye deserved the top score. 
Mobileye achieved the top spot in both rankings within frameworks that assessed multiple companies both quantitatively and qualitatively across a broad range of criteria covering technology, innovation, strategy, implementation, customer bases and more. In the Guidehouse Leaderboard, Mobileye moved forward six positions since the last report published in 2021, an accomplishment that reflects the significant strides Mobileye has made in recent years demonstrating and delivering on its autonomous vision.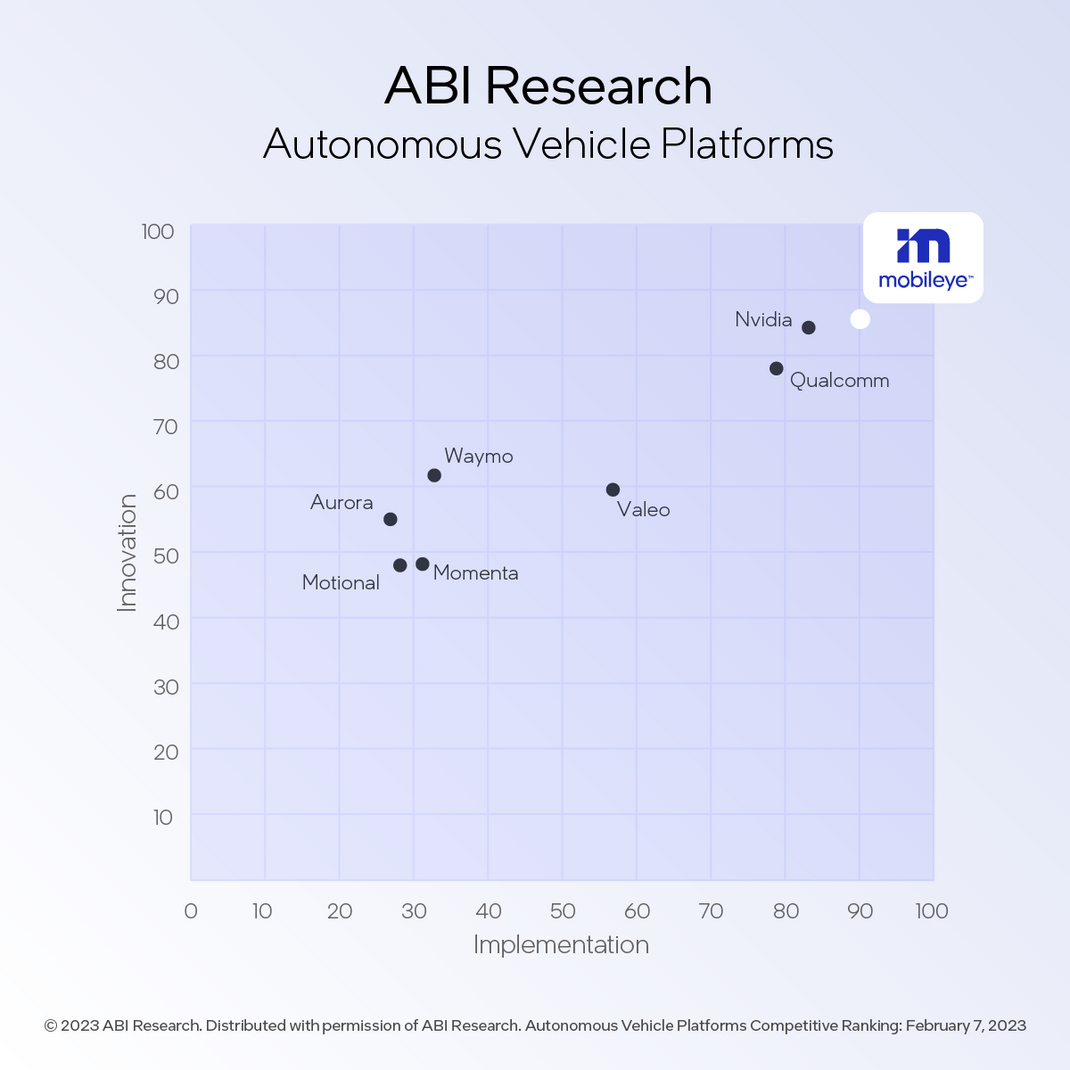 Each report highlighted four companies leading the AV space, and Mobileye was the only company to appear in both lists. 
"We appreciate the independent recognition of our tech leadership from these two leading analytical firms," said Mobileye President and CEO Prof. Amnon Shashua. "It's a testament to the hard work of thousands of Mobileye employees who are developing the future of transportation every day. It's also a reminder that this industry continues to develop quickly, and we should never take our success for granted."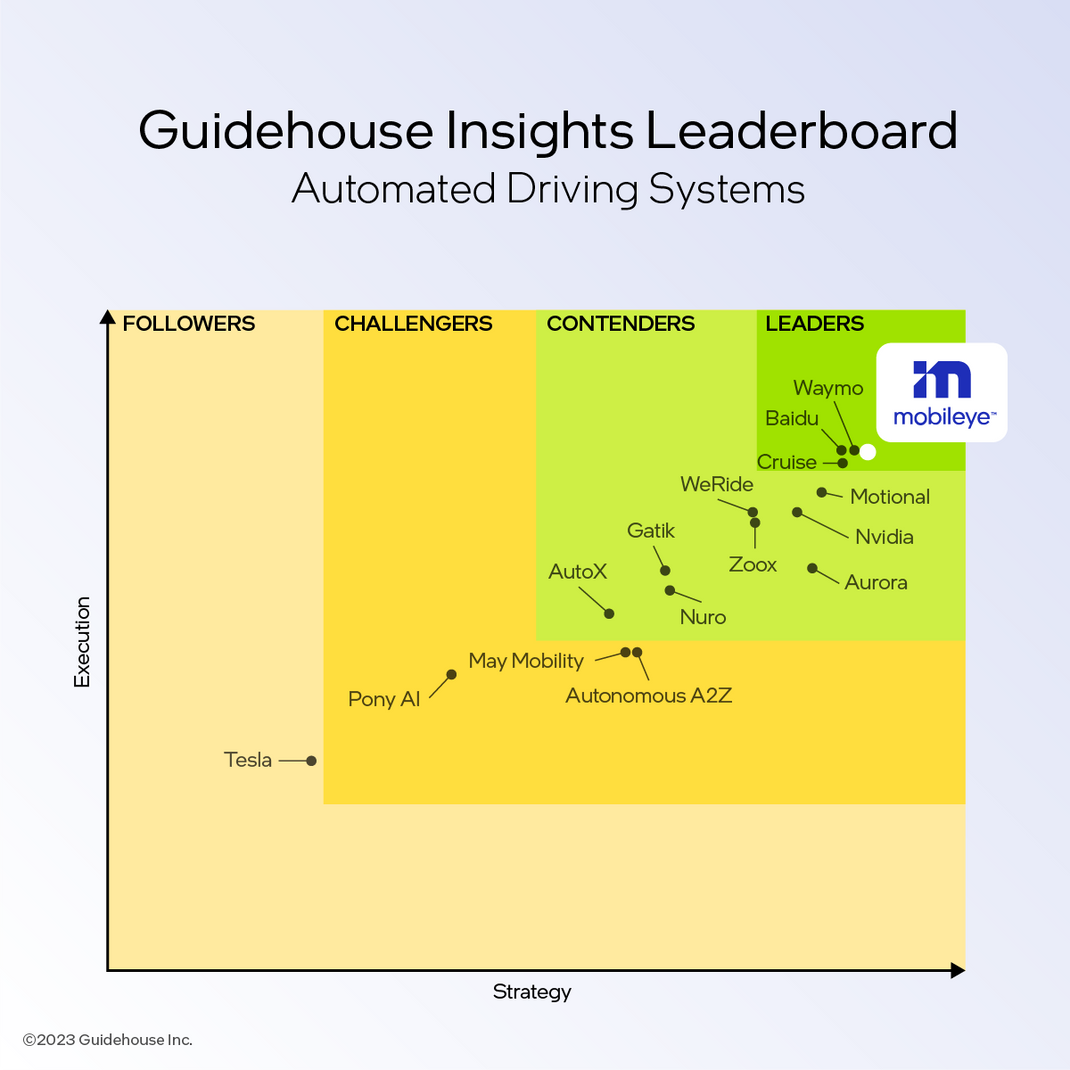 With AV research and development having matured in recent years, both research groups emphasized the importance of companies having viable business models for future AV deployment. Each report recognized that Mobileye's established leading position and long track-record of execution in the vision-based ADAS market supports a strong path to realizing automated driving of increasing capabilities in both the consumer and mobility-as-a-service markets.  
Another key advantage in both reports was Mobileye's approach to scalable, deployable AV tech through its Mobileye SuperVision™ eyes-on, hands-off technology which is already in production, along with the Mobileye Drive™ robotaxi solution and Mobileye Chauffeur™ consumer AV offering; all built on nearly two decades of success in camera-based safety and driver-assist systems installed in more than 135 million vehicles globally.  
Media Contact: Justin Hyde 
Justin.Hyde@Mobileye.com  
+1 202-656-6749 
Analyst Relations: Luca Gervasoni 
Luca.Gervasoni@mobileye.com  
+ 1 954-600-3373 
___________________________________ 
Mobileye (Nasdaq: MBLY) leads the mobility revolution with its autonomous driving and driver-assistance technologies, harnessing world-renowned expertise in computer vision, artificial intelligence, mapping, and data analysis. Since its founding in 1999, Mobileye has pioneered such groundbreaking technologies as REM™ crowdsourced mapping, True Redundancy™ sensing, and Responsibility Sensitive Safety (RSS). These technologies are driving the ADAS and AV fields towards the future of mobility – enabling self-driving vehicles and mobility solutions, powering industry-leading advanced driver-assistance systems and delivering valuable intelligence to optimize mobility infrastructure. To date, more than 135 million vehicles worldwide have been built with Mobileye technology inside. In 2022 Mobileye listed as an independent company separate from Intel (Nasdaq: INTC), which retains majority ownership. For more information, visit https://www.mobileye.com.  
"Mobileye," the Mobileye logo and Mobileye product names are registered trademarks of Mobileye in various jurisdictions. All other marks are the property of their respective owners. 
Press Contacts
Contact our PR team