news
|
September 14, 2023
FAW Group and Mobileye Forge Strategic Alliance in Autonomous Driving
FAW Group aims to initially equip FAW Hongqi vehicles with Mobileye SuperVision™ and Mobileye Chauffeur™ technology, and build a deeper technological alliance.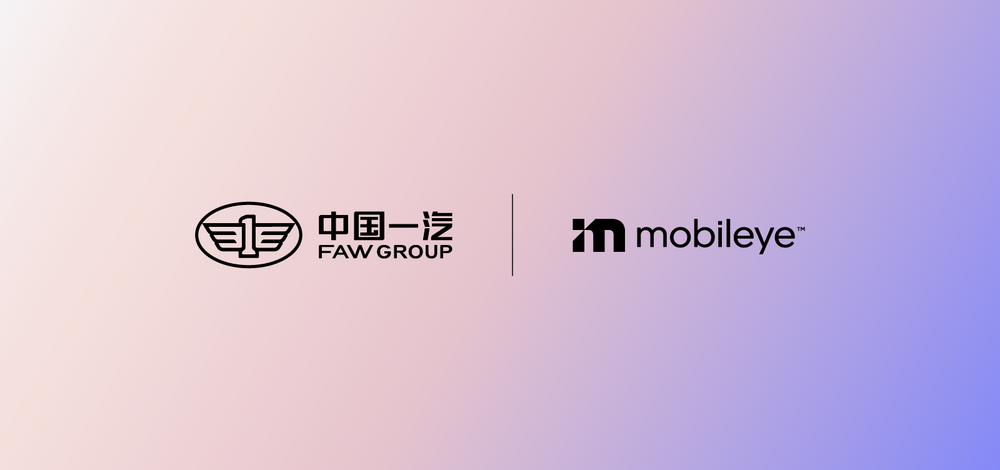 Logos of FAW Group and Mobileye
CHANGCHUN AND JERUSALEM — FAW Group, one of the largest Chinese automotive groups, and Mobileye (Nasdaq: MBLY), a global leader in autonomous driving solutions, have announced a new strategic partnership leveraging their respective industry advantages in software, hardware and technology products. The two sides will work together to create new products based on Mobileye SuperVision™ and Mobileye Chauffeur™ platforms, to empower customers with safe, enjoyable driving experiences.
Mr. Qiu Xian Dong, chairman of BOD & secretary of the CPC FAW Group Committee , and Professor Amnon Shashua, President and CEO of Mobileye, held the signing ceremony on September 13, in Changchun. The two companies will start working together on FAW Hongqi brand vehicles, bringing the Mobileye SuperVision highly advanced automated driving assist platform to key models of the Hongqi brand. That will be followed closely by work toward integrating the Mobileye Chauffeur "eyes-off, hands-off" driving technology for specified domains into the much-anticipated E701 vehicle. The Mobileye SuperVision projects are expected to be deployed by end of 2024, with the Mobileye Chauffeur projects targeted for launch by the end of 2025.
Meanwhile, other brands of FAW Group are in line to gradually follow, using Mobileye's platform solutions. In addition, the parties will conduct comprehensive discussions on feasible plans to further deepen their cooperation. 
As a pioneer of China's automotive industry, FAW Group has always been committed to building a world-class, green and intelligent mobility service company that consumers love. Throughout its 70 years of development, FAW Group has been constantly refreshing the user experience through technological innovation and service upgrades.
Mobileye SuperVision will be an integral part of FAW's advanced driver assistance systems, promising an unparalleled driving experience in its category. Upon its integration Mobileye Chauffeur can provide "hands-off, eyes-off" autonomy on specified operational domains, with adaptive eyes-on driving in other settings, using the Mobileye SuperVision cameras paired with a front-facing lidar and Mobileye imaging radar. Both systems will utilize Mobileye's EyeQ™6 SoC, RSS™-based driving policy, a comprehensive 360-degree camera system, and precision mapping.
"The target of the cooperation between FAW Group and Mobileye, both leaders in their respective fields, is to provide cutting edge ADAS and AV solutions in the Chinese market. This cooperation will deepen the partnership and alliance between the companies. Mobileye's products will be first equipped on the Hongqi brand, and later expand to the other brands within the FAW Group," said Mr. Qiu Xian Dong, Chairman of BOD & secretary of the CPC FAW Group Committee.
"FAW's selection of Mobileye for this venture underscores the magnitude of this collaboration," said Prof. Amnon Shashua, President and CEO of Mobileye. "Between the scale and expertise FAW has built over the past seven decades and our world-class technology, this alliance could shape the future of autonomous driving in the region and beyond. Drawing from our extensive experience of delivering our technology to more than 150 million vehicles globally, we see a future where autonomous driving improves transportation safety, convenience and accessibility for millions."
More details about the projects will be shared in the months ahead.
Press Contacts
Contact our PR team