BLOG
Fleet Beat
The latest in fleet management & safety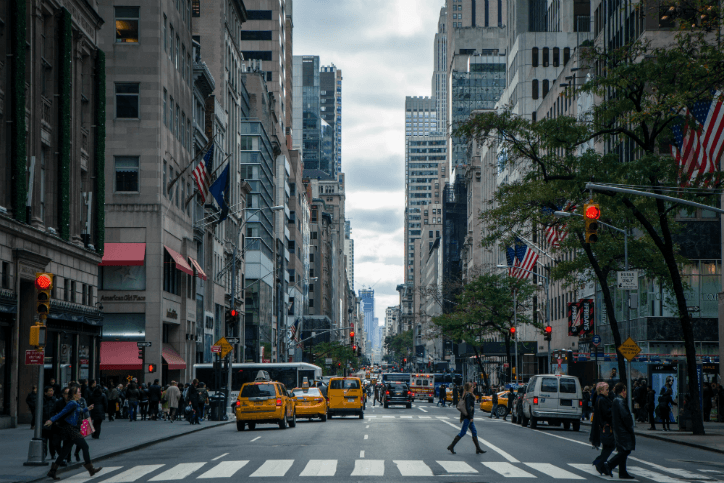 Collision Avoidance in Cities - Pedestrians, Cyclists and Vehicles, Oh My!
10.10.2018 Collision Avoidance,Distracted Driving
While managing a fleet in an urban area may seem to involve navigating your drivers around bumper-to-bumper traffic and other annoyances, the city is, in some ways, more dangerous than the highway. According to a 2016 report by the National Highway Traffic Safety Administration 72% of pedestrian fatalities and 68% of cyclist fatalities occurred in urban areas.
So how can you help your drivers safely navigate these urban hazards?
Provide a good GPS – Imagine all the dangerous situations drivers can find themselves in simply by not knowing where they are going. Everything from harsh braking when you're not prepared for a turn to accidently turning down a one-way street. All these can be reduced by a good GPS system, not to mention the benefit of allowing drivers to concentrate on the road and not the navigation.
Weather Preparation – Of course weather effects driving under any conditions but in urban areas there are many more obstacles - pedestrians, cyclists, delivery trucks etc. This makes paying close attention to the effect of weather on your stopping distance all the more important. Here, a good collision avoidance and blind spot detection system (see number 5 below) can go a long way toward alleviating these challenges.
Avoid fatiguing your drivers – We typically associate collisions due to fatigue with long highway drives, but urban driving is also severely affected by fatigue. A Swedish study of city bus drivers published in 2016, showed 19% of city bus drivers had to fight to stay awake while driving two or three times a week and nearly half of these drivers had to fight off sleepiness anywhere from two to four times a month. This fatigue makes dealing with blind spot detection (see 4 below) even more difficult.
Blind Spot Detection Training – Large vehicles, such as city buses, means larger blind spots and it is critical for drivers to be properly trained to deal with them. This is especially important for buses traveling city streets. Quite frequently cyclists will pass buses on the right, directly through the bus's blind spot. Left turns also create a hazardous situation when the A-pillar on city buses creates a blind spot that can easily hide pedestrians until it's too late.
Install a collision avoidance system – A proper collision avoidance system such as Mobileye Shield+™ can help with many of these issues. The system offers five safety features, among them headway monitoring warning which helps keep drivers a safe distance from vehicles ahead. Both visual and audible warnings are designed grab drivers' attention in that vital few seconds before a collision can occur. Perhaps most critically, the pedestrian detection system built into Mobileye Shield+™ constantly monitors a vehicle's blind spots and the road ahead, signaling drivers when pedestrians or cyclists enter these dangerous areas but also intelligent enough to ignore inanimate objects, avoiding false alarms.
During a pilot study conducted by the Washington State Transit Insurance Pool none of the buses equipped with Mobileye Shield+™ were involved in a pedestrians or bicyclists collisions - as compared to 284 events experienced by non-equipped buses. Not only that, but the drivers of Mobileye Shield+™equipped buses displayed noticeably improved driving habits. Following this study three of the transit agencies involved elected to keep Mobileye Shield+™ after the trial. The Barcelona City Council took notice of this study and later equipped some of its municipal vehicles with Mobileye collision avoidance systems.
For more information on blind spot detection and protecting pedestrians check out Mobileye's Mobileye Shield+™ system for yourself.
Want to learn more?
Subscribe to our newsletter:
Thanks for Subscribing!