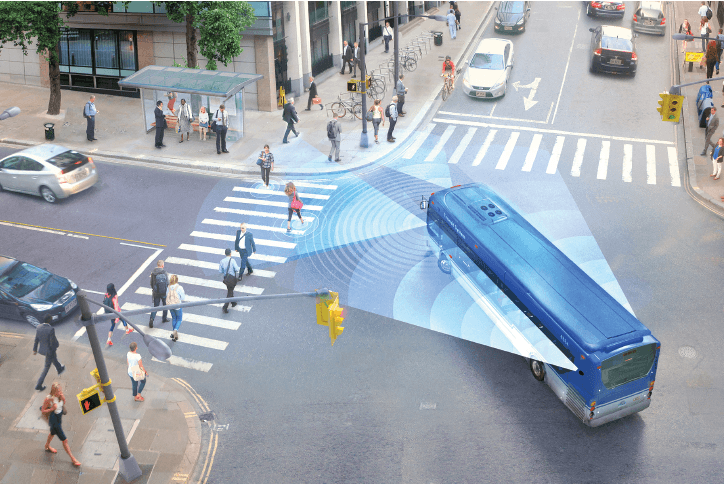 02.01.2019 Collision Avoidance
A research program run by the Washington State Transit Insurance Pool (WSTIP), the Transportation Research Board (TRB), and University of Washington has shown the remarkable benefits of Mobileye's Shield+™, a collision avoidance system specifically designed for urban large vehicles such as buses or waste management trucks traveling in urban environments. At its conclusion the research showed both the safety and economic benefits of Shield+.
Anyone who's had experience driving a bus knows, transit drivers face some of the most stressful work conditions imaginable - surrounded by commuters rushing to work, pedestrians running across the street, cyclists riding in your blind spots, delivery trucks stopping suddenly - all this while having to deal with passengers getting on and off the bus and asking questions. In short a world of dangers and distractions.
It should come as no surprise that number of collisions involving buses is rising – between 2002-2014 buses and vanpools in the US experienced 85,391 collisions which involved 1,340 fatalities and 201,382 injuries. According to the Federal Motor Carrier Safety Administration, between 2009 and 2015 crashes causing injury rose by 62%.
This situation seems ideal for introducing collision avoidance systems, and it is. However, it is not a simple matter of installing standard collision avoidance equipment on to buses. These vehicles face a particular set of unique challenges:
1. Retrofitting – Buses are a large investment and so are kept in service for many years. Their collision avoidance system has to be suitable for installation on existing buses, not just newly purchased vehicles.
2. Blind spots – Buses have large blind spots. The collision avoidance system has to cover these areas. Blind spot detection has to account for numerous pedestrians and others in these spot such as cyclists passing the bus, passengers waiting at bus stops or running to catch the bus.
3. False positives – Standard collision avoidance systems alert drivers when they approach pedestrians. Buses, however, are supposed to get close to pedestrians. If the collision avoidance system warns bus drivers every time they get close to a stop, the drivers would soon start to ignore warnings altogether.
4. Turning – The turning radius of a bus is far greater than that of a car, creating a far more hazardous situation.
Taking all the above, and more, into account, Mobileye developed Shield+, an advanced collision avoidance system designed to include, among other features, the pedestrian and blind spot detection so important for buses and large trucks.
In 2016, in an effort to improve safety and reduce costs, the Washington State Transit Insurance Pool (WSTIP) began a pilot project installing Shield+ on 38 buses. The project ran from April 1, 2016 to June 30, 2016.
The results of this pilot were clear - buses equipped with Shield+ experienced no rear-end, pedestrian or cyclist collisions during the test period. Furthermore, the study found that buses equipped with Shield+ showed a 58.5% potential reduction in vehicular and pedestrian collision claims as compared to unequipped buses insured by WSTIP.
The pilot also had another, perhaps equally important benefit - drivers using Shield+ significantly improved their driving habits when measured against a control group – those driving with Shield+ triggered 71.55% fewer forward collision warnings per 1000 miles and 43.32% fewer pedestrian and cyclist warnings per 1,000 miles – it would be reasonable to assume that these drivers were avoiding even entering hazardous situations.
Public transport is a critical service but providers must do a better job of protecting passengers and vulnerable road users. While there are a number of elements in road safety, this pilot seems to indicate that collision avoidance systems, especially those designed for buses, will be a major part of this effort.
Download the WSTIP Study Summary.
Contact Mobileye to find out more about Shield+ and how you can protect your passengers and pedestrians.