BLOG
Fleet Beat
The latest in fleet management & safety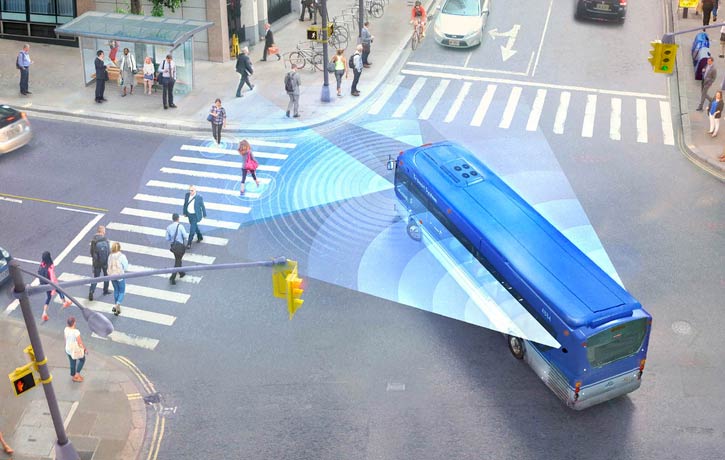 Smart City Challenge: How Mobileye Fits In
04.01.2017 Collision Avoidance,Fleet Safety,Distracted Driving
The Smart City Challenge swept across the United States last year, inspiring cities to become more "smart." If you haven't heard of the Smart City Challenge here's what you need to know. The US Department of Transportation, with the help of Vision Zero, has pledged up to $40 million to help one city define what it means to be a "Smart City." In addition to the $40­million funding award, the US Department of Transportation has partnered with Mobileye to install Mobileye Shield+ on buses in the winning city's public bus system.
Smart City Challenge
The goal is to create "the country's first city to fully integrate innovative technologies – self­driving cars, connected vehicles, and smart sensors – into their transportation network," to create safer and more efficient public transit systems. Safety and mobility are key concerns in every city, many of these cities turned to technologies like collision avoidance systems, connected vehicles and smart sensors to solve their problems. The Smart City Challenge is coming back in 2017, so here's how Mobileye can help you.
Transit Bus
Transit vehicles face a difficult task: safely navigating long buses, with limited visibility through crowded city streets and crosswalks. With all the distractions of an urban environment, it can be easy for a bus driver to miss a pedestrian or cyclist in their blind spot. Mobileye Shield+ is designed for buses and long municipal vehicles to address the issue of transit bus blind spots and improve driver visibility in congested cities. Shield+ makes the road safer for pedestrians, cyclists, and other vehicles.
Using up to four multi­vision smart sensors, Shield+ is strategically placed around the bus to watch for pedestrians and cyclists that a driver may not see. Shield+ constantly monitors the streets and provides real-time visual and audible alerts when pedestrians or cyclists are in the bus' danger zones or blind spots. The Mobileye system is so advanced, it can tell the difference between pedestrians and cyclists from inanimate objects. This means your drivers will have minimal false alerts, so they will take the alerts seriously.
Shield+ offers these features:
Forward Collision Warning (FCW). Alerts when a collision is imminent with a car, truck, or motorcycle ahead of your
Headway Monitoring Warning (HMW). Alerts when the following distance from the vehicle ahead becomes
Lane Departure Warning (LDW). Alerts when a lane deviation occurs without proper signal notification.
Speed Limit Indicator (SLI). Recognizes speed limit signs and alerts when the vehicle exceeds the posted
Intelligent High Beam Automatically turns on/off the high beams depending on the level of light and relative distance from other traffic.
Pedestrian & Cyclist Collision Warning (PCW). Alerts when a collision is imminent with a pedestrian or cyclist within the vehicle's front danger
Pedestrian & Cyclist Detection with Shield
Among the six alerts and features built into the Mobileye Shield+, the Pedestrian & Cyclist Collision Warning (PCW) is a feature added aimed to enhance the safety of mass transit vehicles. Driving buses, transit, and municipal vehicles isn't easy, even without today's extra distractions. These drivers face challenges like limited visibility, greater turning radii, large vehicles, and distracted pedestrians which make it difficult for drivers to identify every possible collision. Mobileye's Pedestrian & Cyclist detection system continuously scans the bus' front danger zones for pedestrians and cyclists who are distracted by their phones or are simply just not paying attention. By enabling greater collision avoidance the Shield+ collision avoidance system aligns with the standards set by Vision Zero and the Smart City Challenge to help cities reshape their transit systems through the power of technology. Making cities safer for everyone on the road.
Learn more about how Mobileye can help transit buses navigate through crowded urban streets.
Want to learn more?
Subscribe to our newsletter:
Thanks for Subscribing!