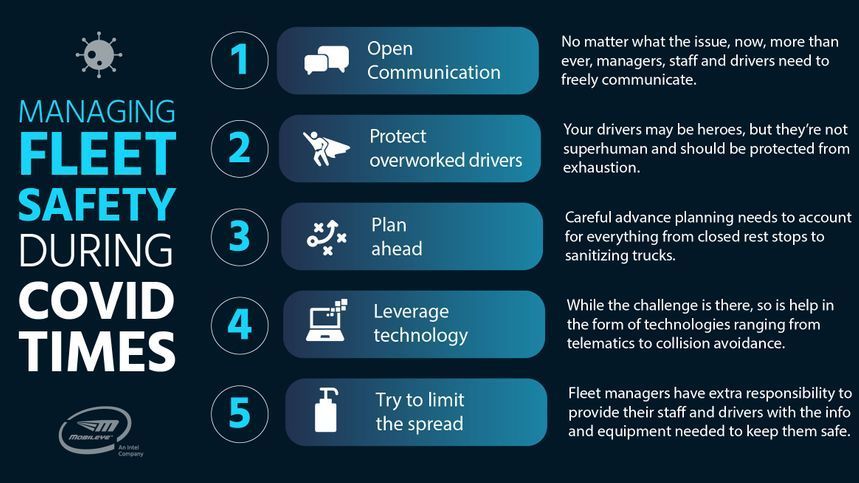 Managing Fleet Safety in the Times of COVID-19
COVID-19 has changed the way we approach social proximity, open-air exposure, and work procedures. For fleets, however, many of the recommended safety precautions are challenging, even in the best case. Drivers, for instance, are simply not able to work at home.  At the same time, fleets and drivers are on the front line, their jobs essential, critical to helping us weather the crisis.  
Following are 5 simple steps fleet managers can take to deal with COVID-19 and give them the tools they need to help protect their fleets and drivers. Remember your safety is everyone's safety. 
Open communication – 

There is a lot going on now – You're scared, many of your staff and drivers are working like crazy and scared, while others may not be taking the situation seriously enough. Now it's more important than ever for everyone to feel free to communicate, whether it's a driver who feels they're just too tired to drive, or someone who has a sick family member at home. And for managers this includes keeping on top of the latest health directives from the Centers for Disease Control (CDC) and passing them on to your employees or dealing with those who aren't taking proper precautions because they think the situation is "overblown".

 
Protect overworked drivers – 

The need for many to shelter in place, along with panic buying, has placed an increased demand on fleets and drivers. In Europe, and in the UK for instance, 

restrictions

 

on the number of hours drivers can work have been eased. All to ensure that we don

't experience any shortages. However, no one can inject extra endurance into your drivers.

 Drowsy driving is one of the greatest threats to a fleet. Make sure your drivers know that while they may be heroes, they're not superhuman and have to be ready not to push themselves too hard. Here communication (Tip 1) and leveraging safety technology (Tip 4) can play an important role).

  
Plan ahead –

With an uncertain and complex situation, planning ahead is critical. This means planning for a wide range of things – between the extra pressure on fleets and stay at home orders, truck stops are more crowded than ever with reports of drivers having to wait two hours for food service or showers. If stops are all jammed up, do you have an alternative planned? One way is to equip trucks with extra food, beds and maybe even portable toilets. While drivers are going to be interacting with people, you can supply them with protective gear such as masks, hand sanitizer and gloves.  

 
Leverage technology

 

–

Fortunately, for many of the steps mentioned above there are technologies that can help, so why not take advantage of them? Telematics can help managers plan trips more effectively, not only choosing the fastest route but helping determine the best rest stops and possible alternatives. Collision avoidance systems can alert drivers, who may grow inattentive after longer than usual shifts, to possible dangers on the road. In-cab cameras can warn drivers who show signs of dozing off.  

 
Take precaution to limit possible spread of the virus – 

As essential workers, fleet workers have no choice but to face potential hazards. However, managers can take several steps to minimize risks. Vehicles should be disinfected when switching drivers. That means, for example, wiping down all surfaces with spray disinfectant or disinfectant wipes. Any employees that can work from home should. Staff working from the office should be sitting the recommended distance away from each other, packages should not be accepted by hand but rather place on a counter of the ground and disinfected. Make sure that staff feel comfortable taking time off it they're not feeling well – better one sick employee than an entire fleet paralysed.   
In times of crisis, working together, both within fleets and across the industry becomes more important than ever. As a leader in the field of fleet safety, Mobileye appreciates the sacrifice of drivers, the critical role played by fleet management in keeping their fleets running and understand the importance in all of us contributing what we can to those on the "front lines."